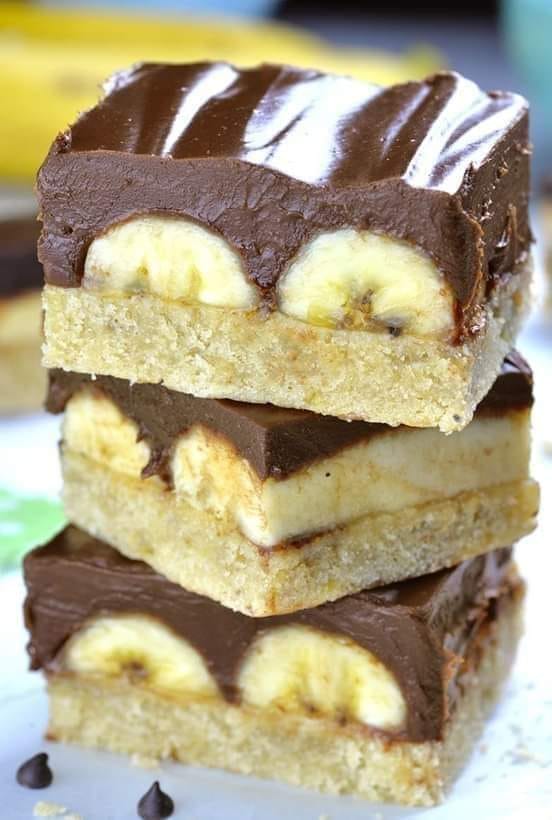 Ingredients:
Banana Brownies:
½ cup unsalted butter-melted
1/3 cup light brown sugar
½ cup sugar
¼ teaspoon salt
1 ½ teaspoons vanilla
1 large egg
½ cup mashed banana (1 medium-large banana)
1 cup flour
For topping:
3–4 large bananas
12 oz. semi sweet baking chocolate finely chopped
¾ cup creamy peanut butter
1 cup heavy cream
Instructions:
Preheat the oven to 350 F. Line 8 x 8 inches pan with parchment paper and spray with cooking spray, set aside.
In a bowl whisk together melted butter, brown sugar, sugar and salt.
Add egg and vanilla and whisk just to combine.
Add mashed banana and whisk to combine, then whisk in flour. Pour the batter in prepared pan, smooth the top and bake 25 minutes, or until the center has set.
Cool completely in the pan.
Place chopped chocolate in a heatproof bowl. Pour boiling heavy cream over chocolate and let it sit for 1-2 minutes, then stir until chocolate is completely melted and smooth. Stir in creamy peanut butter until smooth.
Slice bananas in half and arrange over cooled brownies.
Pour chocolate peanut butter mixture over bananas and place in the fridge for 15 minutes to firm.