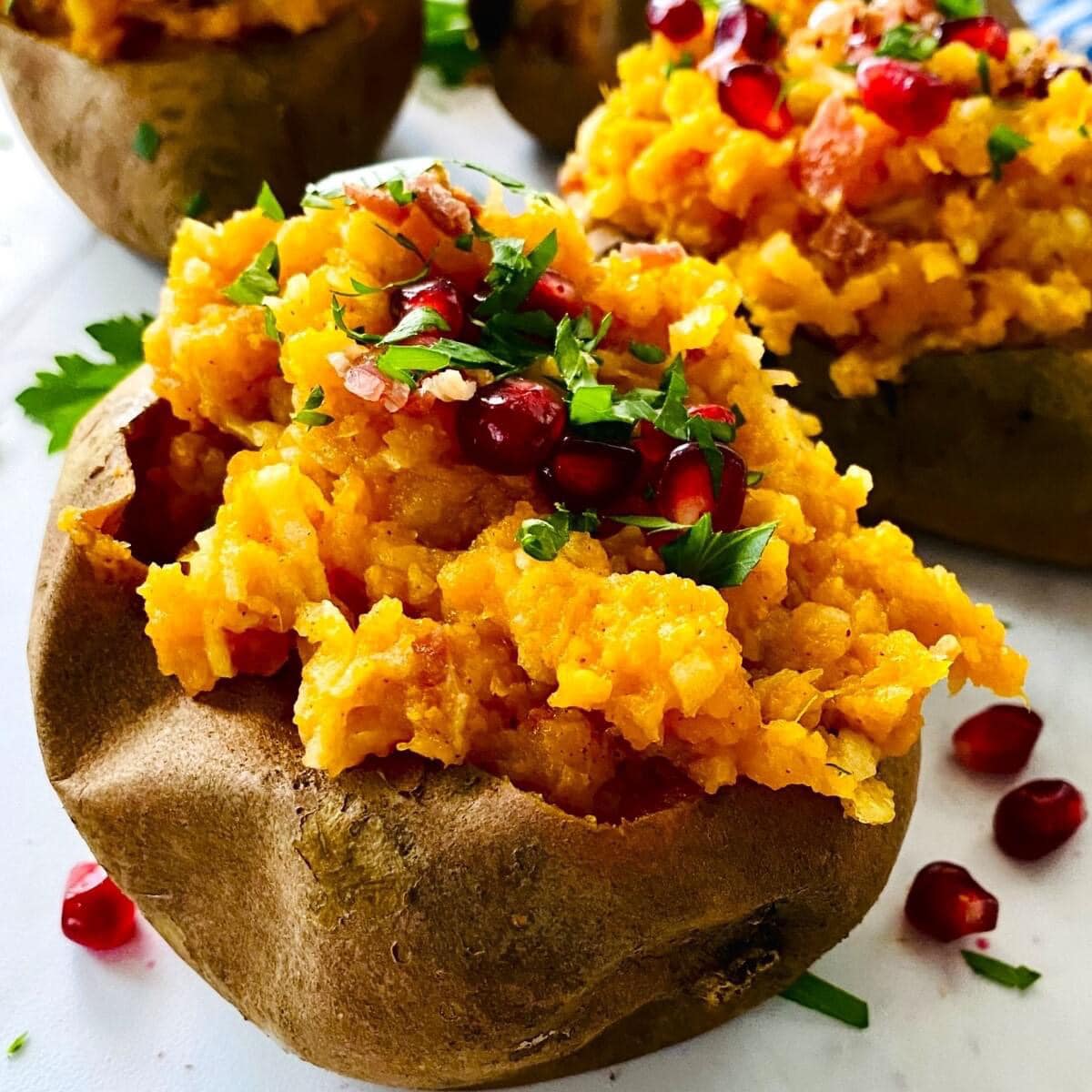 Total Time: 1 hour 15 minutes Yield: 4
These deliciously sweet and salty Apple and Bacon Stuffed Sweet Potatoes with Pomegranate are the ultimate comfort food. Simple to make baked sweet potatoes are overstuffed with shredded apple and crispy bacon then topped with a bright red pop of pomegranate arils and more bacon.
INGREDIENTS
4 medium sweet potatoes
2 tablespoons salted butter, at room temperature
1 teaspoon kosher salt
1/2 teaspoon cinnamon
1 tablespoon light brown sugar
2 medium apples such as Braeburn or Honeycrisp
4 slices of bacon, cooked and crumbled
2 tablespoons pomegranate arils
2 tablespoons fresh chopped parsley
Cook Mode Prevent your screen from going dark
INSTRUCTIONS
Preheat oven to 425 degrees F. Line a baking sheet with parchment paper and set aside.
Wash and dry the potatoes. Carefully poke all sides of the potatoes with a sharp knife or fork.
Bake for 45 to 55 minutes or until soft when given a squeeze. Reduce the oven temperature 400 degrees F.
Let the potatoes cool for about 10 minutes. Cut off the top of each potato and scoop out the inside. Leave about 1/4 to 1/2 inch of the pulp in the skin. Place the sweet potato pulp in a large bowl. Set the empty potato skins back on the baking sheet.
To the sweet potato pulp, add the butter, kosher salt, cinnamon and light brown sugar. Mash the potatoes with a masher. Set aside.
Peel the apples. Using a grater, shred the apples.
Add the shredded apple and half of the crumbled bacon to the mashed potato mixture. Stir to combine.
Fill the potato skins with the mashed potato filling. Place the potatoes back on the baking sheet. Bake in a 400 degree F oven for 15 to 20 minutes.
Remove the potatoes from the oven. Sprinkle with the pomegranate arils, the remaining bacon and the parsley.
Serve immediately.