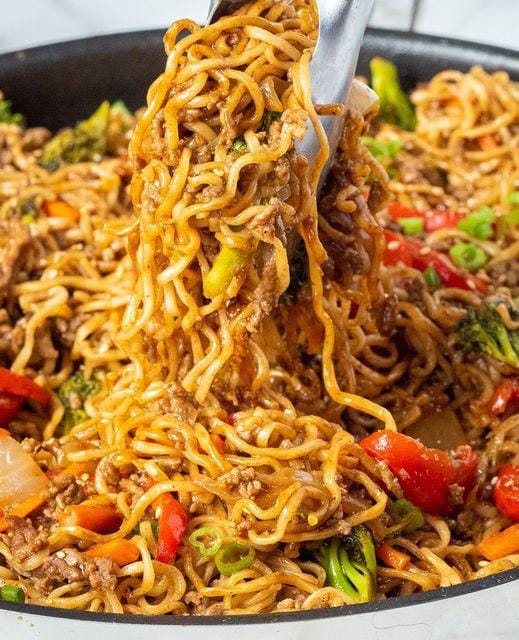 INGREDIENTS
4 tablespoons olive oil
1/2 large white onion, thinly sliced
3 cloves garlic, minced
1-inch piece ginger, grated
1 lb lean ground beef
1 red bell pepper, sliced thinly
2 cups broccoli florets, diced
3/4 cup carrots, cut into matchsticks
3 packages instant ramen noodles, seasoning packets discarded
FOR THE SAUCE:
2 teaspoons cornstarch
3 tablespoons light soy sauce
1/3 cup chicken broth
2 teaspoons toasted sesame oil
1 tablespoon light brown sugar
1 tablespoon rice vinegar
2 tablespoons hoisin sauce
2 teaspoons Sriracha sauce, or to taste
1/4 teaspoon black pepper
FOR SERVING:
Green onion, minced
Sesame seeds
PREPARATION
In a small bowl, whisk together the sauce ingredients: the cornstarch, soy sauce, chicken broth, sesame oil, rice vinegar, hoisin sauce, Sriracha, and black pepper. Set aside.
In a large skillet or wok, heat 2 tablespoons oil over medium-high heat. Once hot, add onion and cook until soft, 4-5 minutes.
Reduce heat to medium, then stir in ginger and garlic. Stir briefly, 15 seconds, then push to the side of the skillet.
Increase heat to high, then add ground beef to pan. Let sit undisturbed for 30 seconds, then use a wooden spoon or spatula to break apart meat and cook until no longer pink.
While beef cooks, bring a large pot of water to a boil. Add ramen noodles and cook 1 1/2 minutes less than package directions indicate. Drain and toss with 1 tablespoon oil. Set aside.
Reduce skillet heat to medium-high, then add in bell pepper, broccoli, and carrots. Let cook until crisp-tender, stirring occasionally, 3-4 minutes.
Stir sauce one more time, then add to skillet along with ramen noodles. Cook and toss everything together with tongs until sauce has thickened and coated everything, 2-4 minutes.
To serve, sprinkle green onion and sesame seeds over. Enjoy!