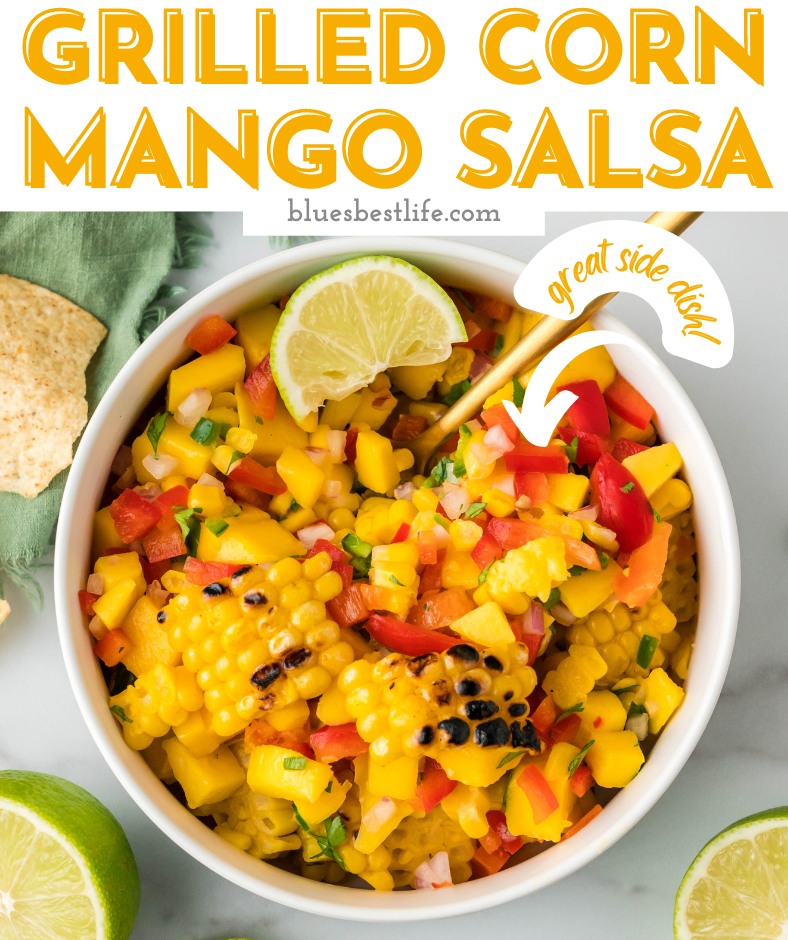 This juicy mango corn salsa recipe is packed with the freshest summertime produce. Juicy mango, fresh cilantro, crunchy red bell pepper, tangy lime juicy and grilled sweet corn come together to make a great recipe for your summer get togethers. So fire up your grill and get your bag of chips ready for this easy homemade salsa recipe!
Prep Time:10minutes mins
Cook Time:15minutes mins
Chill:10minutes mins
Total Time:35minutes mins
Ingredients
1 cup corn, grilled (about 2 ears of corn)
1 cup mango, diced (about 1 largo mango) see notes
⅓ cup red pepper, diced
2 tablespoons red onion, finely diced
1 tablespoon cilantro
2 tablespoons jalapeño, finely diced
1 tablespoon lime juice, fresh squeezed
Instructions
Preheat grill to high heat. Clean corn cobs and brush with olive oil. Once fill is hot place corn on grill and turn every few minutes to get grill marks all over ears of corn. Remove from grill and chill.
While corn is grilling chop red onion, jalapeño, red bell pepper, and cilantro.
Slice mango into cubes.
Once corn is cool enough to handle slice the kernels of the ears of corn. Depending on size of corn you will need 2 ears to equal 1 cup.
Combine all ingredients into a medium sized mixing bowl and squeeze lime juice over top. Mix well and serve with chips or over grilled chicken or fish.
Notes
*Mangos are a stone fruit that has a large pit in the center. The best way to cut a fresh mango is to cut a slice off from each side, exposing the flesh and then cutting into small sections. The skin if bitter so you will want to slice the fruit away from the peel and discard the peel and the pit.
*Even if you do not own a grill you can still achieve that smokey charred flavor with just a skillet. You can char canned or frozen corn in a skillet with a little olive oil. If using canned corn, drain and rinse the corn well. Heat a skillet over medium high heat with a teaspoon of olive oil. Sauté corn for 6-7 minutes or until slightly charred. If using frozen corn it is not necessary to defrost but it may take a few extra minutes to char in the skillet.