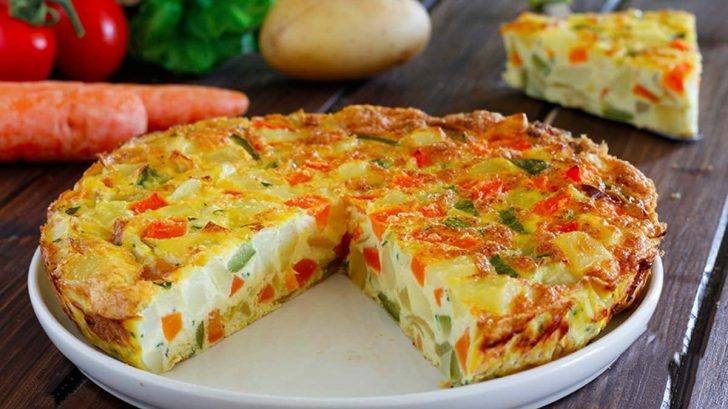 Ingredients
(4 people):
– 1 carrot
– 6 eggs
– 1 onion
– 1 zucchini
– 50 g of parmesan
– 1 potato
– 1 tablespoon of milk
– Parsley or basil
– salt
Easy Baked Vegetable Omelet Recipe Preparation
_ Peel the potato and cut it into cubes.
_ Clean and wash the carrot, onion and zucchini and cut them into cubes.
_ Boil a pot of lightly salted water and cook the potatoes and carrot. After 5 minutes of cooking, also add the diced zucchini.
_ Cook for about 10 minutes then drain the vegetables and leave to cool slightly.
_ Put the whole eggs in a bowl with the parmesan, milk, chopped parsley or basil and a pinch of salt and beat the mixture with a fork.
_ Add the boiled vegetables to the egg mixture and mix gently to combine everything.
_ Line a baking sheet with baking paper and pour the mixture, spreading it evenly.
_ Bake the omelette in a preheated oven at 180° for about 30 minutes until it turns golden on the surface.
_ Take the omelet out of the oven and serve it hot, warm or cold.