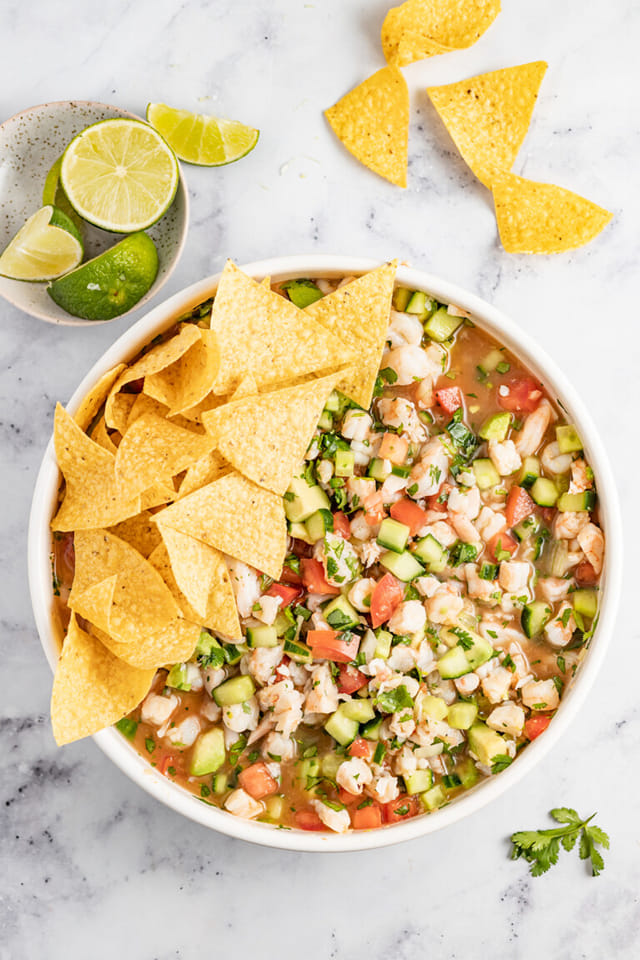 Sonora Style Ceviche de Camaron is a delightful dish originating from the coastal regions of Mexico. This vibrant and refreshing seafood recipe combines the freshness of shrimp, the tanginess of lime, and the subtle heat of jalapeños to create a flavorful culinary experience. In this article, we will walk you through the step-by-step process of making Sonora Style Ceviche de Camaron, along with some valuable tips from the renowned chef, Becky. Additionally, we will provide you with valuable nutritional information so that you can indulge guilt-free. Let's dive in!
Ingredients
1 pound raw shrimp, peeled and deveined
1 cup fresh lime juice
2 cups diced cucumbers
2 Roma tomatoes, diced
1 large diced jalapeno (about 4 tablespoons)
1/3 cup diced yellow onion
1/2 cup chopped fresh cilantro
2 garlic cloves, minced.
3/4 cup V8 juice or clamato
1 avocado, diced
salt and pepper to taste
Instructions
Boil the water. Fill a large shallow skillet with water 3/4 of the way full. Bring a boil.
Cook the shrimp. Add shrimp to the skillet and cook for 1 minute.
Immediately remove and place shrimp into an ice water-filled bowl to stop the cooking process. Let shrimp rest for 1-2 minutes in the bowl.
Cut the shrimp. Remove the shrimp from the ice bath, and pat dry with a paper towel. Dice the shrimp into small 1/4″ pieces and place in a large bowl.
Stir in the lemon juice. Add fresh lime juice to the bowl with the shrimp and give it a quick stir to coat the shrimp.
Add the veggies. Next, add in cucumbers, tomatoes, jalapenos, onion, cilantro, garlic, clamato juice, and avocado. Gently stir everything together until combined. Season with salt and pepper to taste. Stir again.
Chill it. Store in refrigerator for at least 30 minutes, or until ready to serve.