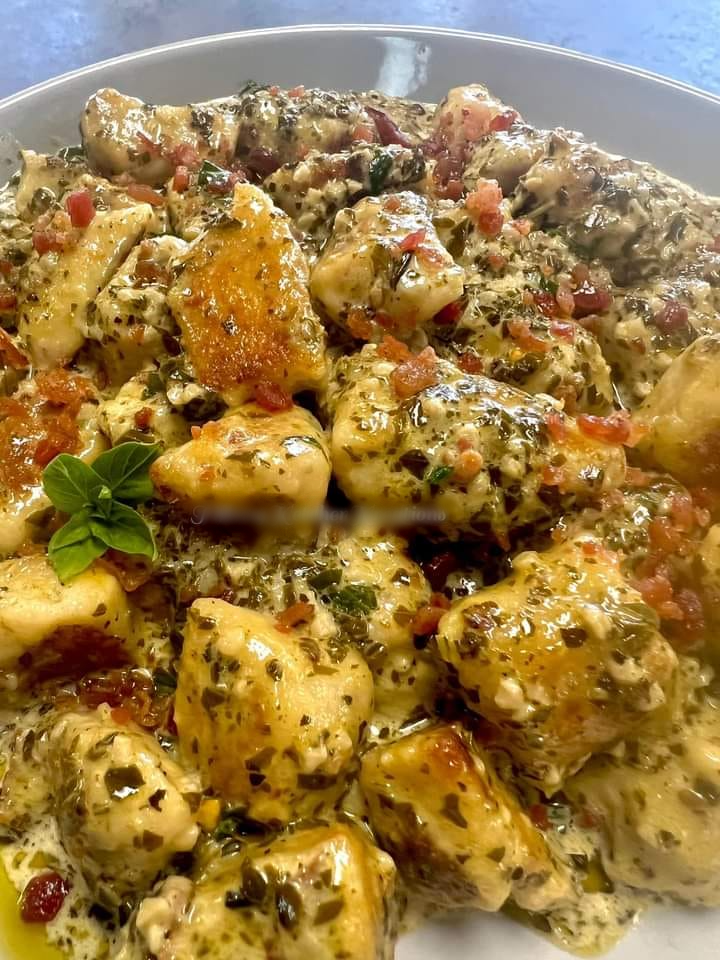 Homemade gnocchi in a creamy bacon pesto sauce with fresh basil my neighbors gifted me 
RECIPE:
For the gnocchi:
2 potatoes, peeled
2 cups flour
1 egg
Add potatoes to boiling water and cook until tender, about 15 minutes. You want them to be somewhat firm still.
Combine 1 cup mashed potato, flour, and egg in a large bowl and form a ball. If it is still sticky add more flour. Put in unused bowl and cover ten minutes so its easier to work with. Divide the ball into smaller pieces and make "snake" shapes like you used to when you were a kid and olayed with playdoh lol. On a floured surface, cut "snakes" into 1/2-inch pieces.
Add to boiling water and wait until they rise to the surface and float. Recommended, but optional: You can add to a hot skillet with a little oil to pan sear them.
For the pesto cream sauce
2 cups heavy cream
8 oz prepared basil pesto
1/2 cup fresh grated parmesan
1/2 cup fresh shredded asiago
5 slices chopped cooked bacon
2 oz cream cheese
Over medium heat add heavy cream to a pan. Add in cream cheese. Once cream and cream cheese are incorporated add in pesto remove from heat and add in cheeses and bacon. Toss with gnnochi.
To make your own pesto:
2cups fresh basil leaves
1/2 cup fresh grated parmesan
1/2 cup extra virgin olive oil
1/3 cup pine nuts
3 gloves garlic minced
1/4 teaspoon salt
1/4 tsp ground black pepper
Use a food processor and pulse basil with pine nuts. Add cheese and garlic and pulse several more times. Slowly add olive oil and pulse more, stopping to scrape the sides and return to pulsing. Add in rest of olive oil, season with salt & pepper.