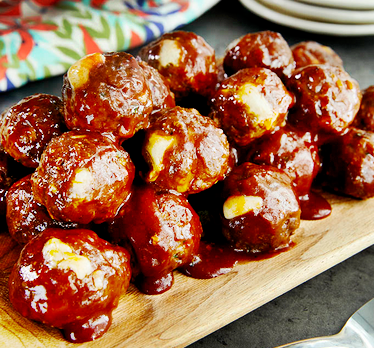 BBQ Meatballs Stuffed with cheese 
You know when you go to a party and they have those little barbecue meatballs, and you think to yourself, "These are delicious, but they'd be even more delicious if they were filled with cheese"? No? Just us? Well, take our word for it, those barbecue meatballs are even more delicious when they're filled with cheese. Cooper® cheese, that is. And we just so happen to have a recipe for that right here. You're welcome.
INGREDIENTS
4 ounces Cooper Sharp White cheese
2 tablespoons onion, minced
2 egg yolks*
3 tablespoons plain breadcrumbs
1 teaspoon Worcestershire sauce
1/4 cup flat-leaf parsley, chopped
salt and pepper to taste
1 pound lean ground beef*
2 1/2 cups barbecue sauce
DIRECTIONS
Line a baking sheet with foil and spray with cooking spray.
Cut Cooper® cheese into 15 small cubes and set aside.
In a medium bowl, combine onion, egg yolks, bread crumbs, Worcestershire sauce, chopped parsley, and salt and pepper. Mix until well combined. Add in ground beef and mix just until combined.
Divide beef mixture into 15 equal portions. Flatten one portion of the beef mixture and add a cube of Cooper® cheese in the center. Wrap the beef up around the cheese and pinch together to seal. Form further into a meatball shape. Repeat for the remaining portions of beef mixture and cubes of Cooper® cheese.
Place all 15 stuffed meatballs on a baking sheet and bake 15-18 minutes.
Transfer meatballs to a baking dish, coat with barbecue sauce, and cover. Return meatballs to oven and bake for another 10 minutes. Remove, serve, and enjoy!