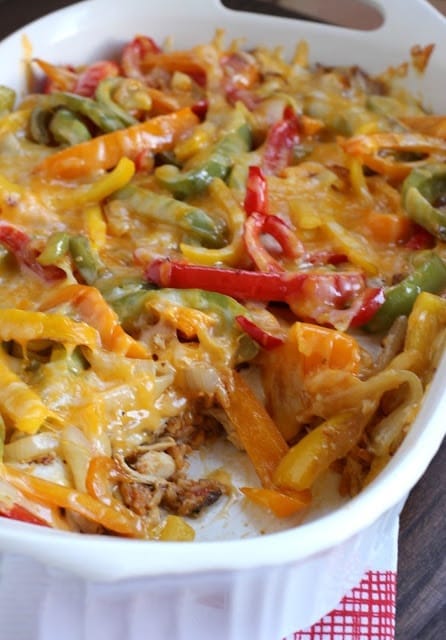 Ingredients:
2 large chicken breasts
1 medium yellow onion sliced into rounds and then sliced in half and broken apart
1 green yellow, red, and orange pepper, seeds and stem removed and sliced
1 Tbsp. olive oil
1 clove garlic
2 Tbsp. fajita seasoning mix comes in an envelope packet
2 bags 8.8 oz. each Uncle Ben's Ready Rice Spanish Style
1 can 10.5 oz. cream of chicken soup
2 medium flour tortillas
2 c. shredded Colby/Jack cheese
Methods:
Preheat oven to 350 degrees Fahrenheit. In a skillet over medium-high heat, saute onion and peppers with garlic in olive oil until tender. Prepare Uncle Ben's Ready Rice Spanish Style according to package directions and add to a large bowl. Cook and shred chicken breasts. Toss with 2 Tbsp. fajita seasoning. Add chicken and cream of chicken soup to Uncle Ben's Rice and stir together.
Grease a 9″x13″ casserole dish and spread chicken and rice mixture in the bottom. Layer with two flour tortillas, allowing them to overlap in the center. Spread pepper mixture over the top of the tortillas and sprinkle with cheese. Cover with foil and bake for approximately 30 minutes, or until warmed through. Remove the foil for the last 5-7 minutes of cooking time so the cheese can melt nicely.