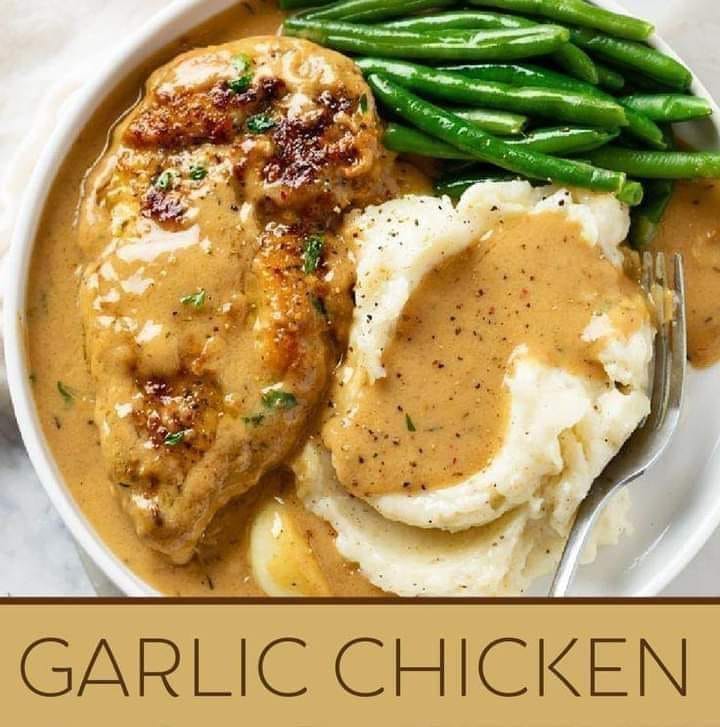 INGREDIENTS:
4 boneless, skinless chicken breasts
4 cloves of garlic, minced
1 cup heavy cream
1/2 cup chicken broth
1 tablespoon butter
1 tablespoon olive oil
1 teaspoon dried thyme
1/2 teaspoon dried rosemary
Salt and pepper to taste
Chopped fresh parsley for garnish
INSTRUCTIONS:
Season the chicken breasts with salt and pepper on both sides.
In a large skillet, heat the butter and olive oil over medium heat. Add the chicken breasts and cook for about 6-8 minutes per side, or until cooked through and browned. Remove the chicken from the skillet and set aside.
In the same skillet, add the minced garlic and sauté for about 1 minute until fragrant.
Pour in the chicken broth and scrape the bottom of the skillet to release any browned bits. Let it simmer for 2-3 minutes.
Add the heavy cream, dried thyme, dried rosemary, salt, and pepper. Stir well to combine.
Bring the mixture to a simmer and cook for about 5 minutes, or until the sauce has slightly thickened.
Return the chicken breasts to the skillet and cook for an additional 2-3 minutes, allowing the chicken to soak up the creamy garlic sauce.
Remove from heat and garnish with chopped fresh parsley.
Serve the creamy garlic chicken with your favorite side dish, such as mashed potatoes, rice, or steamed vegetables.
Enjoy your creamy garlic chicken!