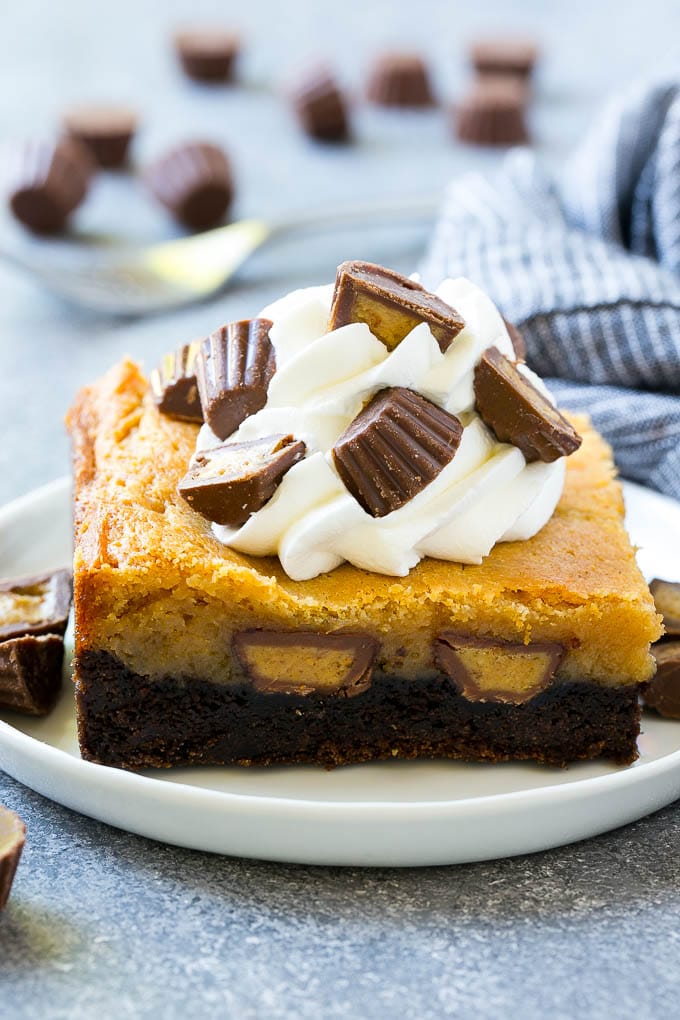 PEANUT BUTTER CHOCOLATE GOOEY BUTTER CAKE
This peanut butter chocolate gooey butter cake is a chocolate cake base topped with peanut butter cups and a layer of gooey peanut butter topping. A decadent and easy chocolate peanut butter cake that's perfect for feeding a crowd.
INGREDIENTS
FOR THE CRUST:
18.25- ounces chocolate cake mix
FOR THE FILLING:
8- ounces mini peanut butter cups

8- ounces cream cheese softened

16- ounces powdered sugar

whipped cream and chopped peanut butter cups for garnish
INSTRUCTIONS
Preheat the oven to 350 degrees F. Coat a 9″x13″ pan with cooking spray.

Place the cake mix, 1 egg and 1/2 cup of butter in the bowl of a mixer. Beat until well blended.

Press the cake mixture evenly into the bottom of the dish.

Scatter the peanut butter cups evenly all over the cake layer.

Place the cream cheese and peanut butter in the bowl of a mixer; beat until smooth.

Add the eggs, vanilla and butter to the bowl, then mix until well combined.

Slowly add the powdered sugar with the mixer on low. Mix until just blended.

Pour the peanut butter mixture over the cake layer.

Bake for 45 minutes or until lightly browned.

Cool completely, then cut into squares and serve, topped with whipped cream and chopped peanut butter cups if desired.
NOTES
Cake can be made up to 3 days before you plan to serve it. Store the cake covered in the refrigerator.

Cake can be cut into squares and frozen for later use.