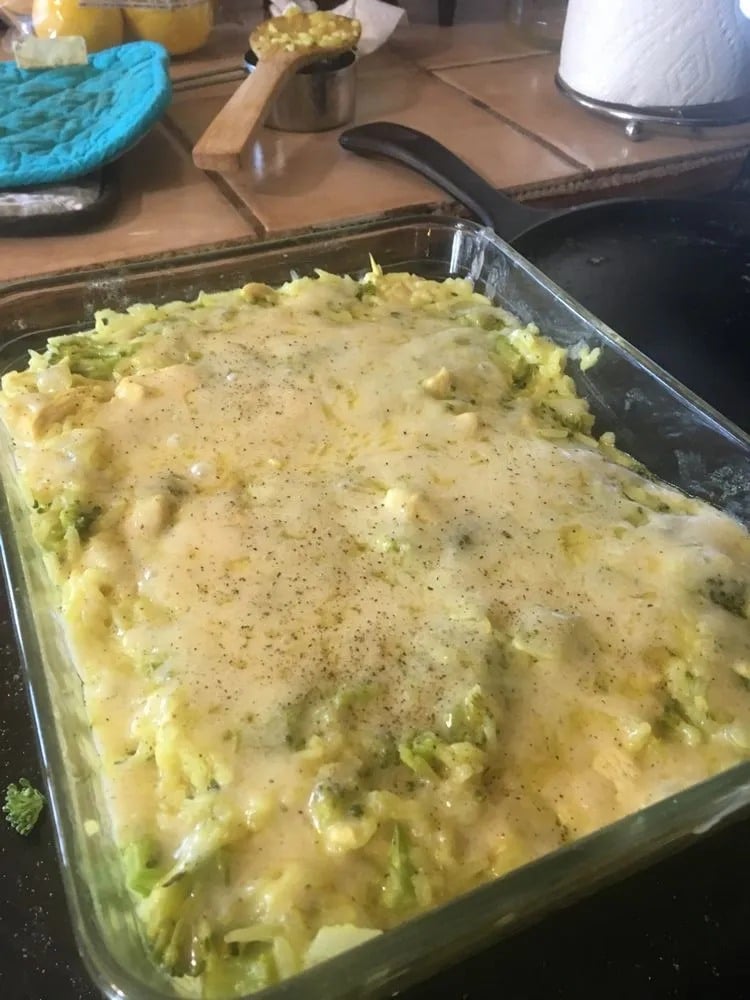 Ingredients:
1 cup brown rice, uncooked
1 lb cooked skinless boneless chicken breasts, diced
2 cups fat free chicken broth
1-2 cubes chicken bouillon
16 oz frozen broccoli
8 oz frozen mixed vegetables
1 cup reduced fat cheddar cheese, shredded
1 ½ cups fat free sour cream
1 cup fat free milk
2 tbsp whole wheat flour
1 tbsp light butter (I used Brummel & Brown)
2 tsp onion powder
1 tsp paprika
Salt and pepper to taste
Instructions:
Step1: Preheat oven to 400 degrees. Spray a large 9" x 13" baking dish with non-fat cooking spray or an olive oil mister.
Step2: Prepare rice according to package directions, but using the chicken broth instead of water, and adding in the bouillon with the broth.
Step3: Bring a large pot of water to a boil on the stove. Blanche broccoli and mixed vegetables for just about 3 minutes. Drain and spread evenly into baking dish. Top with the cooked chicken. Sprinkle with salt, pepper, onion powder and paprika.
Step4: Top with ½ cup of the shredded cheese. Then top with the rice.
Step5: In a small saucepan, melt butter over medium high heat. Whisk in the flour and stir until well combined. Add in milk, salt and pepper, and continue to whisk constantly, until mixture bubbles and thickens. Remove from heat and fold in the sour cream. Pour over rice, and then sprinkle evenly with remaining cheese.
Step6: Place in oven and bake for about for about 20 minutes, or until cheese is melted and bubbly.
Step7: Let cool about 10 minutes before serving.