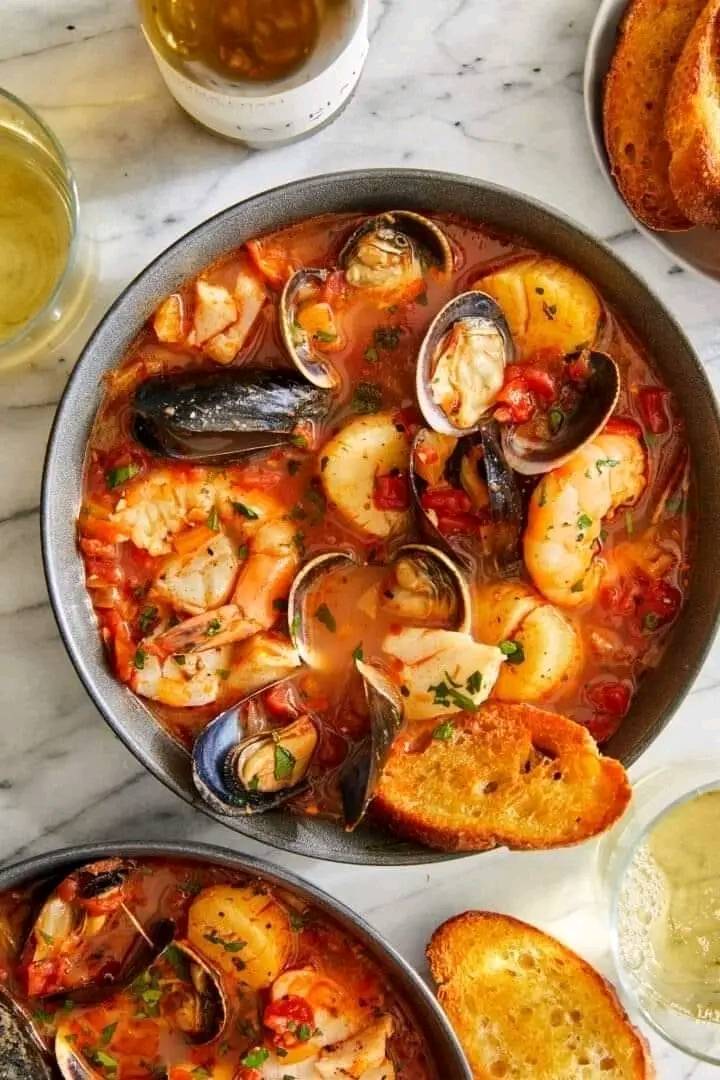 The BEST ever seafood stew, loaded with clams, mussels, cod, shrimp and scallops. So cozy, so hearty, so easy.
INGREDIENTS
4 tablespoons unsalted butter
1 medium sweet onion, diced
1 small fennel bulb, cored and diced
2 tablespoons tomato paste
3 cloves garlic, minced
1/2 teaspoon dried oregano
1/4 teaspoon crushed red pepper flakes
3/4 cup dry white wine
1 (28-ounce) can petite diced tomatoes
2 cups vegetable stock
2 cups clam juice
1 bay leaf
Kosher salt and freshly ground black pepper, to taste
12 little neck clams, scrubbed
1/2 pound mussels, scrubbed and debearded
1 pound cod or halibut filets, cut into 3/4-inch pieces
1/2 pound medium shrimp, peeled and deveined
8 large sea scallops
2 tablespoons chopped fresh parsley leaves
INSTRUCTIONS
Melt butter in a large stockpot or Dutch oven over medium high heat. Add onion and fennel. Cook, stirring occasionally, until tender, about 8 minutes.
Stir in tomato paste, garlic, oregano and red pepper flakes until fragrant, about 1 minute.
Stir in wine, diced tomatoes, vegetable stock, clam juice and bay leaf. Bring to a boil; reduce heat and simmer until flavors have blended, about 15 minutes; season with salt and pepper, to taste.
Stir in clams and mussels. Reduce heat to low; cover, with a tight-fitting lid, and cook until the clams and mussels are just beginning to open, about 3-4 minutes.
Stir in cod or halibut, shrimp and scallops. Reduce heat and simmer until cod or halibut, shrimp and scallops are just cooked through and clams and mussels have opened completely, about 3-4 minutes. Discard any unopened clams.
Stir in parsley; season with salt and pepper, to taste.
Serve immediately.