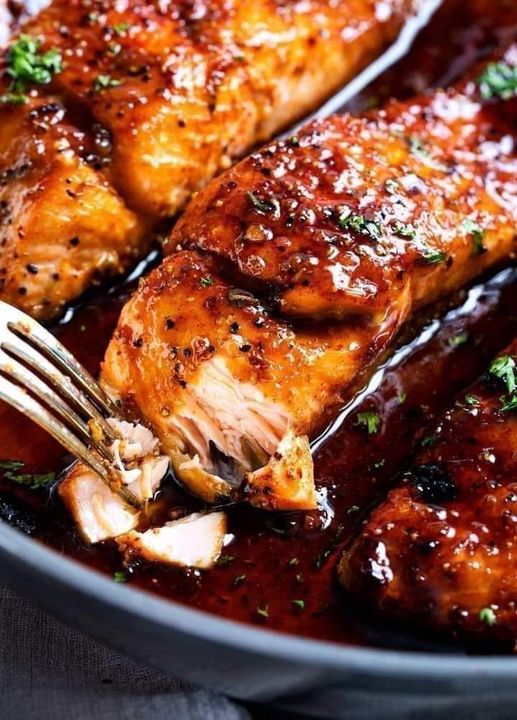 Sticky sweet and garlicky, this glazed salmon recipe comes together in just 20 minutes.
4 (6 oz each) salmon filets
1/2 tsp smoked paprika (or regular paprika)
1/4 tsp blackening seasoning (optional)
Pat salmon dry, then season with salt, pepper, paprika and blackening seasoning (if using). Set aside. Adjust oven rack to middle position, then preheat broiler.
Add butter and oil to a large, oven-safe skillet over MED-HIGH heat. Once butter is melted, add garlic, water, soy sauce, sriracha, honey and lemon juice and cook 30 seconds or so, until sauce is heated through.
Add salmon, skin side down (if using salmon with skin), and cook 3 minutes. While salmon cooks, baste frequently with sauce from the pan by spooning it over the top of the salmon.
Broil salmon for 5-6 minutes, basting with sauce once during the broil, until salmon is caramelized and cooked to desired doneness.
Garnish with minced parsley if desired.
If you'd prefer, season salmon as directed, then pan sear in the pan. Flip over and sear on the other side, then remove to a plate. Add sauce ingredients to pan and cook until warmed through. Add salmon back to pan and spoon sauce over the salmon.
A couple of readers have reported having a watery sauce, which I've never personally encountered during all the testing for this recipe. If you feel the sauce is a bit watery, you could reduce the amount of water used, or simmer the sauce a bit before adding the salmon