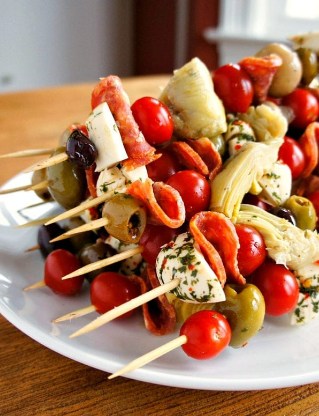 These skewers are fun to make and easy to serve!
2 c. marinated artichoke hearts
8-12 oz. fresh mozzarella cheese diced into 1″ cubes, marinated in herbs or plain
6 oz. sliced salami uncured if available
Get IngredientsPowered by Chicory
Antipasto Skewers – A fun and easy party food!
Skewer all ingredients in an alternating pattern on wooden or metal skewers. Fold the salami slices in half or fourths before skewering, depending on the size.
Cover and refrigerate until ready to serve. Entertaining doesn't get any easier than that!
Amounts are approximate. This recipe is easy to scale and customize, so make it your own and have fun!