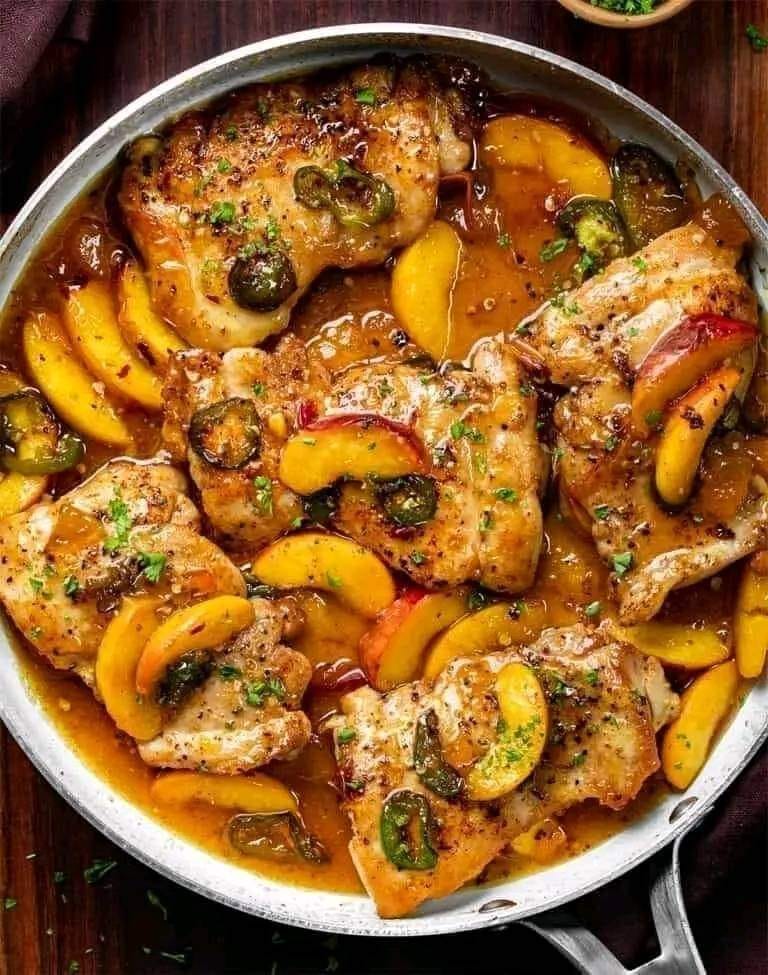 Jalapeno Peach Chicken is seasoned chicken thighs pan-fried and then smothered in a peach glaze with jalapeno peppers and fresh peaches. It has so much flavor and a definite kick to each bite.
Prep Time15minutes mins
Cook Time16minutes mins
Total Time31minutes mins
Course: Dinner, Main Course
Keyword: Jalapeno Peach Chicken
Servings: 6 servings
Calories: 412kcal
Ingredients
Peaches
2 yellow peaches, pitted, sliced
Peach Glaze
½ cup (160 g) peach preserves
1 tablespoon extra virgin olive oil
1 teaspoon soy sauce
teaspoon apple cider vinegar
 teaspoon Dijon mustard
½ teaspoon minced garlic
½ teaspoon kosher salt
⅛ teaspoon black pepper
⅛ teaspoon red pepper flakes
Chicken
2 pounds boneless, skinless chicken thighs
1 teaspoon kosher salt
½ teaspoon black pepper
½ teaspoon chili powder
2 tablespoons olive oil
1 medium jalapeno pepper, thinly sliced
Instructions
Peach Glaze
To a medium bowl, add the glaze ingredients. Mix until incorporated. Set aside.
Chicken
Pat chicken dry.
In a small bowl, combine salt, black pepper, and chili powder.
Apply the seasoning mixture to the chicken.
To a large nonstick skillet over medium heat, add oil. Once hot, add chicken thighs. (Depending on the size of the skillet, you may have to work in batches.) Cook chicken for 5 minutes. Then, flip over the chicken, reduce heat to medium-low, and cook for an additional 5 minutes, or until the chicken reaches an internal temperature of 165°F. Remove from heat. Transfer the chicken to a plate. Tent to keep warm.
To the same skillet and raising the heat back up to medium, add jalapeno peppers. Cook for 3 minutes. Then, add the peaches in with the jalapenos. Cook for an additional 3 minutes, or until the peaches have softened.
Pour peach glaze into the skillet with the peaches and jalapenos. Stir to make sure every jalapeno and peach is evenly coated in the peach glaze.
Add chicken back to the skillet.