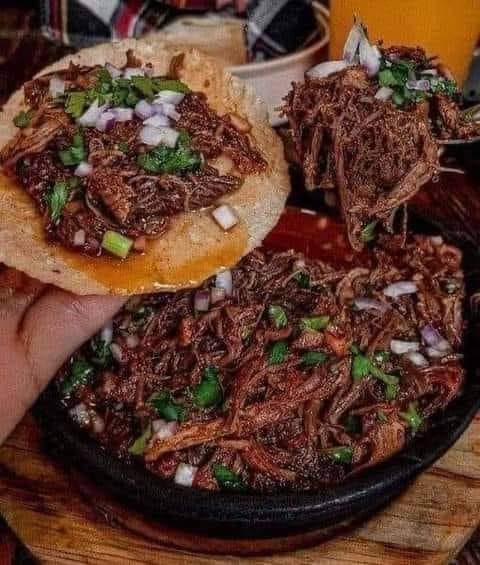 Ingredients
3lb chuck roast
Salt and freshly ground black pepper
2Tbsp vegetable oil
1 1/4cups beef broth, divided
3 – 4chipotle chilies in adobo*
6garlic cloves
1 1/2Tbsp ground cumin
1Tbsp dried oregano
1/4tsp ground cloves
3bay leaves
1/4cup fresh lime juice
Instructions :
Cut roast into 6 portions while removing any large pieces of fat. Heat 1 Tbsp vegetable oil in a skillet.
Dab roast dry with paper towels, and season with salt and pepper (about 1 tsp salt 3/4 tsp pepper). Add 3 pieces to skillet and sear until browned on all sides. Transfer to a slow cooker.
Add remaining 1 Tbsp vegetable oil to skillet and repeat process with remaining 3 roast pieces. Nestle beef portions side by side in an even layer in the slow cooker.
In a food processor, pulse chipotle chilies, garlic, and 1/4 cup beef broth until well pureed, occasionally stopping and scraping down the sides of the processor.
In a 2-cup liquid measuring cup or bowl, whisk together the remaining beef broth with the chipotle mixture, cumin, oregano, and cloves. Pour mixture over beef in the slow cooker, then nestle bay leaves between beef portions.
Cover and cook on low heat 8 – 9 hours**.
Remove beef from the slow cooker (leave broth) and shred. Stir lime juice into broth in the slow cooker then return beef to slow cooker and cook on low or warm 20 – 30 minutes longer.
Strain liquid from beef and serve in tortillas with desired toppings.
Enjoy!