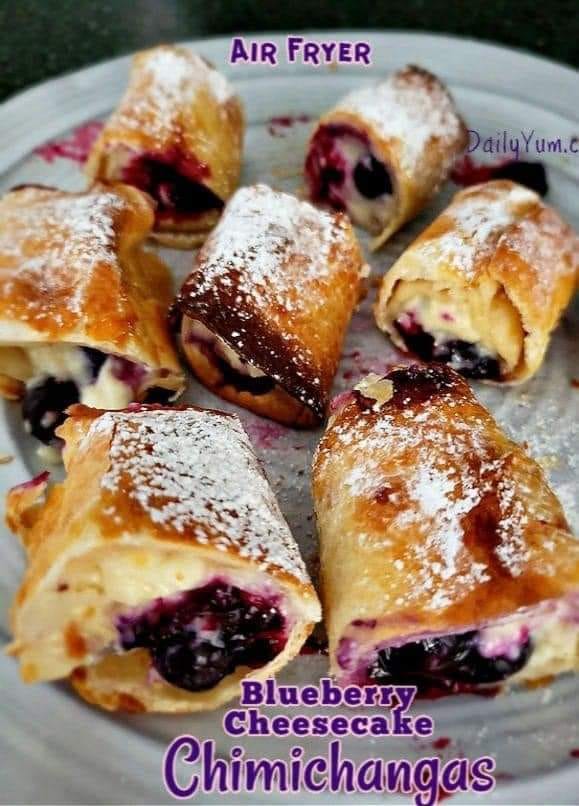 Made with soft tortilla, cream cheese, fresh blueberries, and rolled into a burrito shape, I love how it comes out DELISH, ultra crispy, and golden.
Kids are obsessed!
2 (8-inch) soft flour Tortillas.
4 oz cream cheese (half a block), softened at room temperature.
2 teaspoons of powdered sugar (can use granulated sugar).
½ cup fresh blueberries. Can sub for frozen blueberries or a fruit filling of your choice.
½ teaspoon vanilla extract
1 Tablespoon vegetable oil for brushing. Or spray oil.
I love this Ghee oil spray.
In a medium bowl mix cream cheese, sour cream, sugar, vanilla, lemon zest, and blueberries until it gets creamy and well combined.
Divide the mixture evenly between two tortillas and add it to the lower part of each tortilla (see picture).
Add a few more blueberries to the center of the cream cheese mixture, if desired.
Fold the sides of each tortilla towards the center and then roll up the tortilla tight into a burrito shape.
Secure the end of the tortilla with the toothpick (optional and if needed).
Brush each burrito with oil, coating all sides evenly.
You may want to choose to spray with oil instead.
I use Ghee spray oil and then spread it evenly with the help of an OXO food basting brush.
Preheat the air fryer to 375 degrees F/190 degrees C for a minute.
Lay the cream cheese-filled burritos onto an air fryer basket/tray, lightly greased or sprayed with oil.
Air fry mode (air crisp) for 6 minutes, flipping halfway.
Once you flip the burrito to the other side, be sure to brush/spray the other side with oil again.
Or cook until the tortilla is golden in color and crispy.
Now place them on the plate and let them cool for at least 5 minutes.
Note: the creamy filling is very hot.
Let them cool to the desired temperature so no one is burning their tongue.
I like to cut the chimichangas in half so they cool faster.
You may choose to cut it in halves or quarters.
Sprinkle with powdered sugar (or cinnamon sugar), serve and
enjoy!