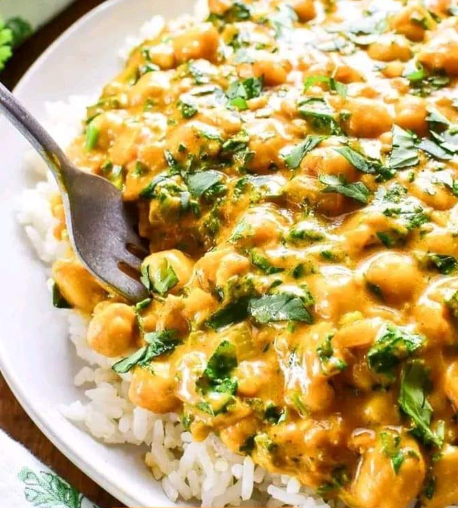 Ingredients
14 ounce can chickpeas, drained and rinsed
1/3 cup tomato sauce
1 can coconut milk
2 cups cooked rice
1 Tablespoon olive oil
1 small yellow onion, chopped
3 garlic cloves, minced
1 Tablespoon curry powder
1 teaspoon turmeric powder
1/2 teaspoon cayenne pepper
1/4 teaspoon ground ginger
`1 cup finely copped spinach
1/2 teaspoon salt
1/2 teaspoon pepper
Cilantro, for garnish
Instructions
Heat olive oil in a large skillet over medium heat. Add diced onion and minced garlic; sauté for 3 minutes.
Add the tomato sauce, chickpeas, spices, and coconut milk and stir well. Bring the mixture to a gentle boil, then reduce the heat and simmer for 10-15 minutes to allow the flavors to develop.
While the mixture is simmering, prepare rice according to package instructions.
Stir 1 cup of finely chopped fresh spinach into the curry mixture just before serving.
Garnish with fresh cilantro as desired. Serve over cooked rice and enjoy!