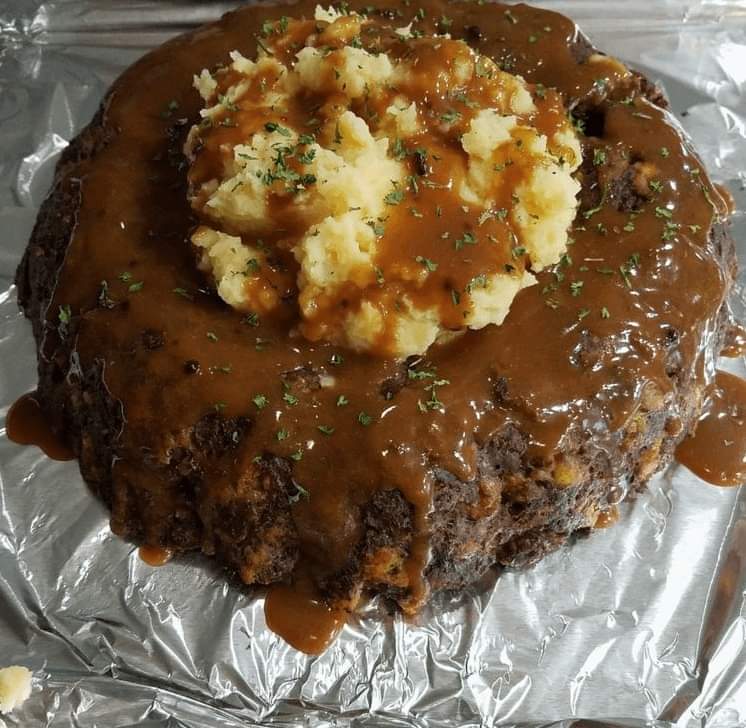 There's something undeniably comforting about a classic meatloaf, isn't there? The savory aroma wafting through the kitchen, the anticipation of that first slice, and the hearty, satisfying flavors that transport you back to simpler times. While meatloaf has long been a staple of American cuisine, we're about to introduce you to a twist on the timeless classic – Stove Top Meatloaf.
Traditionally, meatloaf is baked in the oven, allowing it to slowly cook to perfection. But what if we told you that you can achieve that same delicious result right on your stovetop, saving time and energy without compromising on taste? Yes, you heard it right! Our Stove Top Meatloaf recipe is a game-changer for busy cooks who crave the wholesome goodness of this beloved dish without the long wait.
In this article, we'll guide you through the steps to create a mouthwatering Stove Top Meatloaf that's moist, flavorful, and oh-so-satisfying. We'll explore the essential ingredients, walk you through the preparation process, and even share some tips and tricks to ensure your meatloaf turns out perfectly every time.
So, whether you're a seasoned home cook or just looking to whip up a delicious meal for your loved ones, let's dive into the world of Stove Top Meatloaf and discover how you can make this comfort food classic a part of your regular dinner rotation. Get ready to impress your taste buds and those you're cooking for with this delectable dish that's bound to become a family favorite!
Ingredients:
1 package Stove Top stuffing (use one of your favorite flavors, I prefer chicken, but herbed savory is good too!)
1 cup of hot water
2 packages of brown gravy mix (one for the inside of the meatloaf and one for the top)
1.5 lbs ground beef
1 cup cold water
2 large eggs, beaten
How To Make Stove Top Meatloaf:
In a medium bowl, add the stuffing mix and 1 cup of hot water.
Let stuffing sit for 5 minutes.
Meanwhile, in another medium bowl, mix 1 package of brown gravy with 1 cup of cold water.
Add ground beef and egg, mix well (easiest to do with your hands, it's gross, I know).
After the stuffing has rested for 5 minutes, stir the stuffing mixture into the ground beef mixture.
Grease a bundt pan with non-stick spray, then press the ground beef mixture into the pan.
Bake at 350 degrees for 45-55 minutes or until the inside is no longer pink.
Once baked, let rest for about 5 minutes, then invert the pan onto a plate.
Serve with mashed potatoes and brown gravy in the center of the meatloaf.
Pro Tips for success :
Use lean ground beef to reduce the fat content of your meatloaf.
If you prefer a spicier meatloaf, add a pinch of red pepper flakes or cayenne pepper to the mixture.
To make this dish even healthier, substitute ground turkey or chicken for beef.
Don't skip the resting step; it allows the juices to redistribute, keeping the meatloaf moist.
Nutrition Facts:
While the exact nutrition facts may vary based on specific ingredients and portion sizes, here's an approximate breakdown for one serving (assuming four servings in total):
Calories: 300-350
Protein: 20-25g
Carbohydrates: 15-20g
Fat: 15-20g
Fiber: 1-2g
Sugars: 5-7g
Please note that these values can change based on ingredient choices and serving sizes.
Conclusion:
Stove Top Meatloaf is a fantastic twist on a beloved classic, offering all the flavors you love in a fraction of the time. Whether you're a busy weeknight cook or just looking for a quick, satisfying meal, this recipe delivers. With the pro tips to enhance flavor and nutrition facts to help you make informed choices, you're ready to whip up a delicious meal that your whole family will enjoy. So, roll up your sleeves, grab your skillet, and savor the goodness of Stove Top Meatloaf tonight!
That's it, all you have to do is Enjoy !