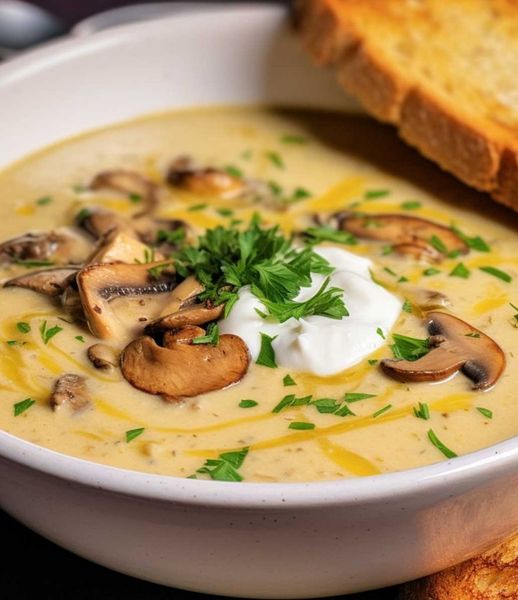 Never heard of this before, but the moment I tasted it, I couldn't stop until my bowl was clean
Hungarian Mushroom Soup has been a staple in Hungary for many years, delivering a hearty and flavorful punch in every spoonful. Perfect for those cold evenings, this soup offers both warmth and comfort and is a testament to Hungary's rich culinary history. Notably, the mushrooms and paprika stand out, paying homage to traditional Hungarian flavors.
You can serve this versatile soup in numerous ways. Complement its robust taste with a slice of crispy bread or garlic toast. For a more fulfilling meal, pair it with a refreshing salad or sandwich. Elevate its flavors with a touch of sour cream or a sprinkle of fresh herbs like dill or parsley.
Hungarian Mushroom Soup Recipe
Ingredients:
1 pound fresh button mushrooms (keep 1 cup aside for garnish)
4 tablespoons unsalted butter
2 cups diced onions
2 teaspoons dried dill
1 tablespoon Hungarian sweet paprika
 tablespoon soy sauce
 cup whole milk
1/2 cup sour cream
2 cups vegetable broth
2 tablespoons cornstarch
 teaspoons lemon juice
1/5 cup fresh parsley, chopped
Salt and pepper, to taste
Instructions:
In a sizeable pot, melt butter over medium heat.
Toss in onions and sauté till they're soft and clear.
Add the mushrooms (except the 1 cup you set aside) and cook until they're browned and their juices start oozing out.
Mix in the dill, paprika, and soy sauce.
Introduce the vegetable broth and let the mix simmer gently.
In a bowl, blend the cornstarch with a bit of cold water to make a paste.
Stir this into the soup till it thickens.
Add the milk and simmer for a couple more minutes.
On low heat, integrate the sour cream and lemon juice into the soup.
Season to your liking with salt and pepper.
In another pan, fry the 1 cup of mushrooms you set aside until golden and use these for garnish.
Serve the soup in bowls, topping each with the fried mushrooms and a dash of parsley.
Dive into the heartwarming flavors of this Hungarian Mushroom Soup, an embodiment of Hungarian culinary artistry.
Relish the harmonious blend of mushrooms, paprika, and creaminess that ensures every bite is an experience in itself.