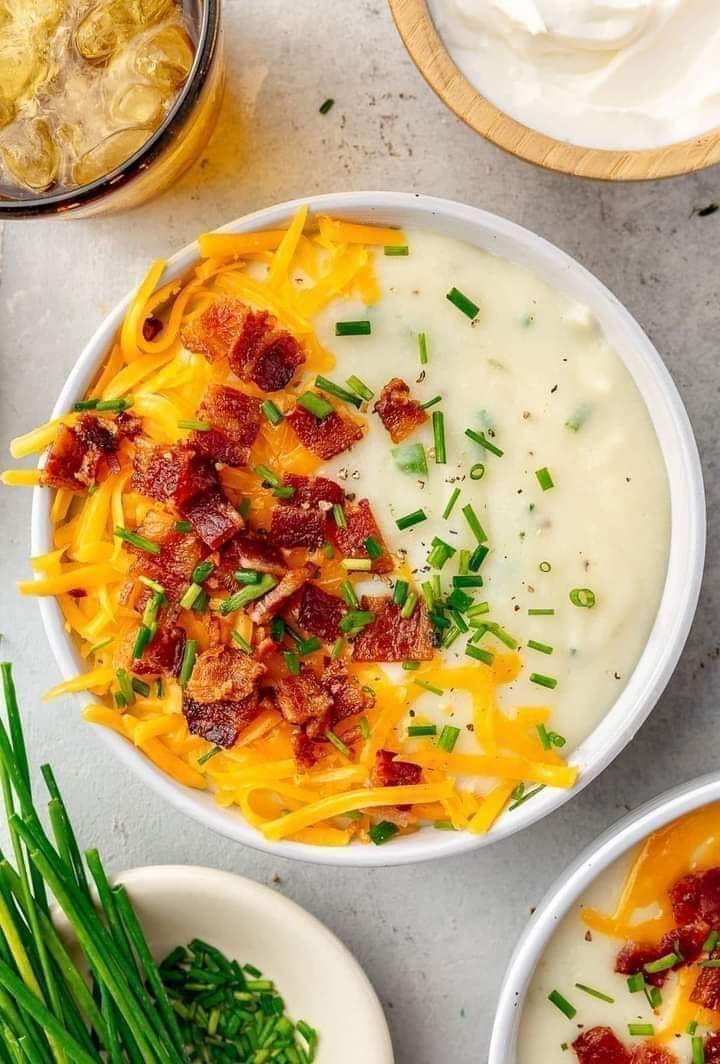 This healthy loaded baked potato soup recipe is comforting, delicious, and so easy to make!
PREP TIME:10minutes mins
COOK TIME:10minutes mins
TOTAL TIME:20minutes mins
YIELD: 5 servings
COURSE: Dinner, Lunch, Soup
CUISINE: American
Ingredients
2 medium russet potatoes (washed and dried)
1 small head cauliflower (3 1/2 cups or 16 ounces, stem removed cut into florets)
1 1/2 cups chicken broth
1 1/2 cups 1% reduced-fat milk
kosher salt and freshly cracked black pepper (to taste)
1/2 cup light sour cream
10 tbsp reduced-fat shredded sharp cheddar cheese
6 tbsp chopped chives (divided)
3 slices center cut bacon (cooked and crumbled (you can use turkey bacon if you prefer))
Instructions
Pierce potatoes with a fork; microwave on high for 5 minutes turn over and microwave another 3 – 5 minutes, until tender.
Or if you prefer to use your oven, bake at 400F for 1 hour or until tender. Cool. Peel potatoes.
Meanwhile, steam cauliflower with water in a large covered pot until tender. Drain and return to pot.
On medium heat, add chicken broth, milk, potatoes and bring to a boil.
Use an immersion blender to puree until smooth.
Add sour cream, half the chives, salt and pepper and cook on low another 5-10 minutes, stirring occasionally.
Remove from heat. Ladle 1 cup soup into each bowl.
Top each serving with 2 tbsp cheese, remaining chives, and bacon.
Nutrition
Serving: 1cup, Calories: 200kcal, Carbohydrates: 23g, Protein: 14g, Fat: 7g, Saturated Fat: 3g, Cholesterol: 17mg, Sodium: 323mg, Fiber: 3.5g, Sugar: 6g