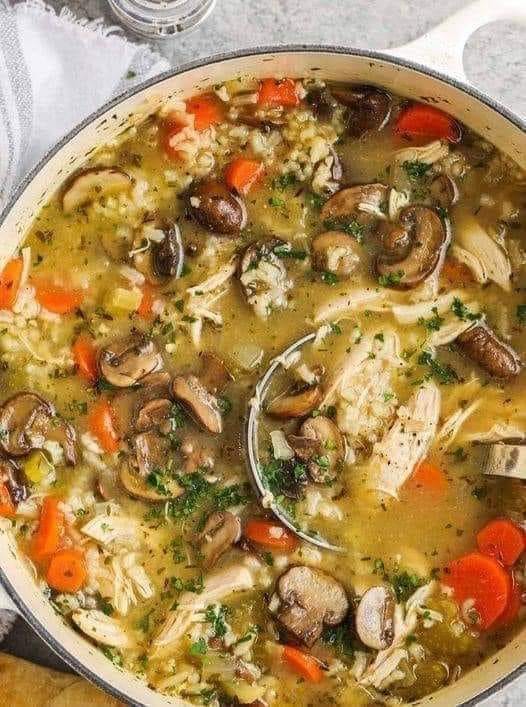 Chicken mushroom soup, i hate to have this alone, i miss having this with a special one
Ingredients
2 tablespoons butter
1 onion diced
2 large carrots peeled and diced
1 stalk celery diced
8 ounces brown mushrooms or white mushrooms, sliced
1 teaspoon garlic minced
1 teaspoon salt
1 teaspoon dried parsley
½ teaspoon dried thyme
½ teaspoon poultry seasoning or ¼ teaspoon ground sage
⅛ teaspoon black pepper
6 cups low sodium chicken broth
2 chicken breasts
½ cup uncooked white rice
Instructions
Heat butter in a large soup pot over medium-high heat. Add onion, carrots, celery, and mushrooms. Cook and stir until onion begins to soften, about 5 minutes.
Add garlic and seasonings and cook just until fragrant.
Add broth, uncooked chicken breasts, and rice. Stir and bring to a boil over medium-high heat.
Reduce heat to medium-low (a simmer), cover, and cook for 20-25 minutes, stirring after 10 minutes.
After 15 minutes remove chicken from the pot and shred.
Once the rice is tender, add chicken back to the pot and serve.
Notes
This recipe uses raw boneless-skinless chicken breasts. Frozen chicken breasts will need about 5-10 minutes extra cooking time.
If using leftover or rotisserie chicken, the chicken should be added at the end so it doesn't overcook.
Garnish with fresh herbs and parsley if desired.
Chicken Mushroom Soup can be frozen for up to 3 months.