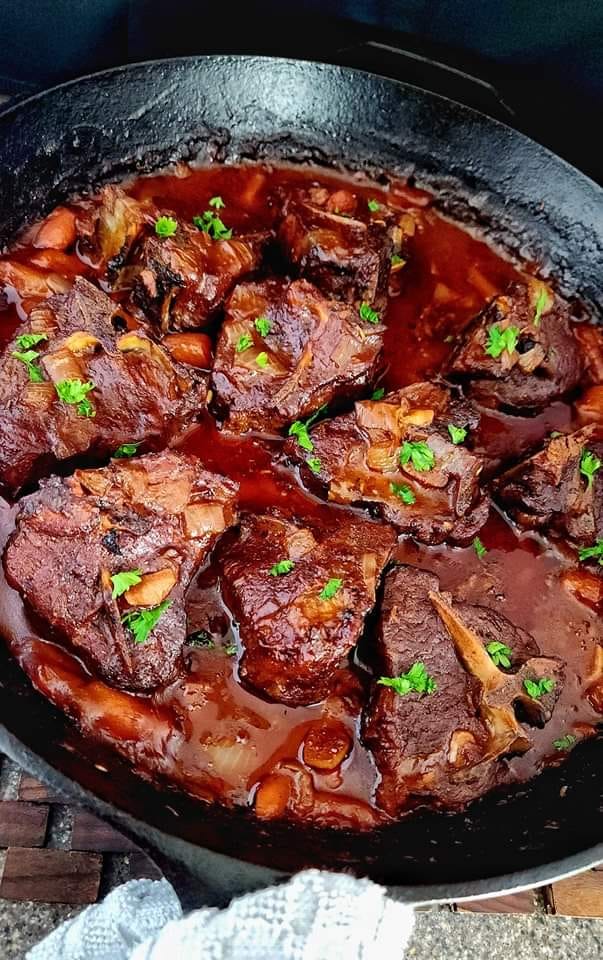 Ingredients:
• 4 lamb chop loins
• 2 tablespoons olive oil
• 1 onion, chopped
• 3 garlic cloves, minced
• 1 carrot, chopped
• 1 cup red wine (such as Cabernet Sauvignon or Merlot) ****Substitute with 1 cup of broth or water
• 1 cup beef or vegetable broth
• 2 tablespoons tomato paste
• 1 teaspoon dried thyme
• Salt and pepper to taste
• Chopped fresh parsley for garnish (optional)
Instructions:
• Preheat your oven to 350°F (175°C).
• Season the lamb chop loins with salt and pepper on both sides.
• Heat the olive oil in a large oven-safe skillet over medium-high heat. Once hot, add the lamb chop loins and sear them for about 2-3 minutes on each side until browned. Remove the lamb chops from the skillet and set aside.
• In the same skillet, add the chopped onion, garlic and carrots. Sauté for about 5 minutes until they start to soften.
• Add the red wine to the skillet and deglaze the pan, scraping up any browned bits from the bottom. Let the wine simmer for a couple of minutes until it reduces slightly.
• Stir in the tomato paste, dried thyme, and beef or vegetable broth. Bring the mixture to a simmer.
• Return the lamb chop loins to the skillet, nestling them into the liquid. Cover the skillet with a lid or aluminum foil.
• Transfer the skillet to the preheated oven and bake for about 1 hour, or until the lamb chop loins are tender and cooked to your desired level of doneness.
• Once the lamb chops are done, remove them from the oven and let them rest for a few minutes.
• Serve the lamb chop loins hot, spooning some of the braising liquid over the top. Garnish with chopped fresh parsley if desired.