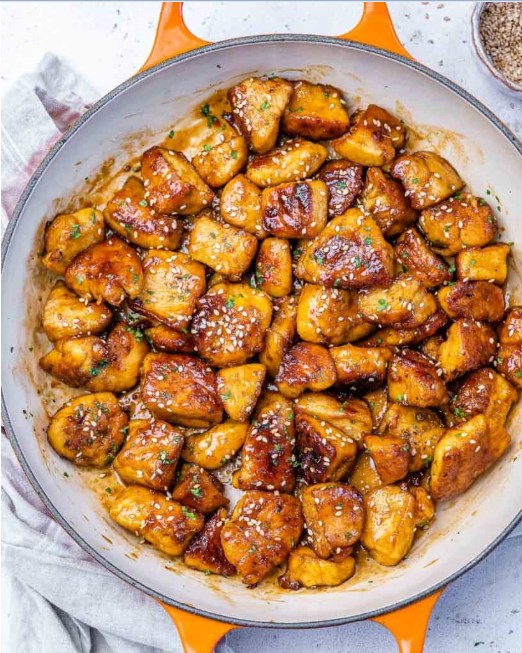 Ingredients
1 lb boneless skinless chicken breast cut into 1 inch cubes
Kosher salt and ground pepper to taste
3 tbsp low sodium soy sauce
1 tbsp white wine vinegar
½ tbsp sriracha/hot chili sauce or to taste
Chopped fresh parsley for garnish
For garnish: sesame seeds optional
Add the chicken to a large ziploc bag together with the flour, oregano, salt and pepper.
Mix through the bag to evenly coat all the chicken pieces.
Heat the oil in a large frying pan, over medium-high heat.
Add the chicken and cook on all sides until golden brown, for about 8-10 minutes in total.
You may need to cook the chicken in batches, to avoid overcrowding the pan.
Meanwhile, in a small jug add the garlic, honey, soy sauce, vinegar and sriracha or hot chili sauce.
Once the chicken is done cooking, pour over the garlic-honey, and stir to completely coat; allow the sauce to simmer for a couple of minutes to meld all the flavors.
Garnish with fresh chopped parsley and sesame seeds.