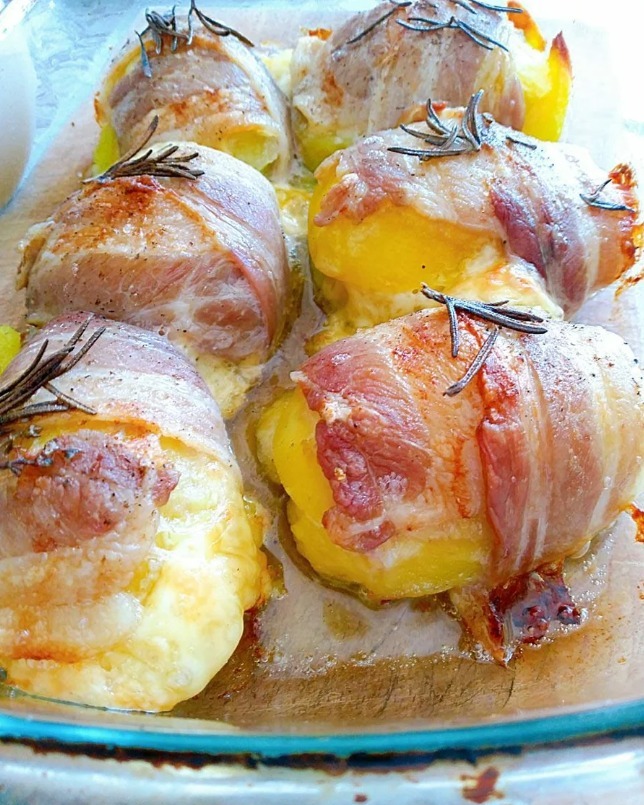 Ingredients:
20 baby new potatoes
10 slices of thick-cut bacon
2 tablespoons olive oil
1 teaspoon garlic powder
1 teaspoon paprika
Freshly ground black pepper, to taste
Chopped fresh parsley, for garnish
Instructions:
Preheat the oven to 400°F (200°C) and line a baking sheet with parchment paper.
Wash and scrub the baby new potatoes, then pat them dry with a paper towel.
Cut each bacon slice in half, creating shorter strips.
Wrap each baby potato with a strip of bacon and secure it with a toothpick.
Place the bacon-wrapped potatoes on the prepared baking sheet, seam side down.
Drizzle the olive oil over the potatoes, then sprinkle them with garlic powder, paprika, and freshly ground black pepper.
Toss the potatoes gently to coat them evenly with the seasoning and oil.
Bake in the preheated oven for 20-25 minutes or until the bacon becomes crispy and the potatoes are fork-tender.
Once cooked, remove the toothpicks from the potatoes and transfer them to a serving platter.
Garnish with chopped fresh parsley for a burst of color and added freshness.