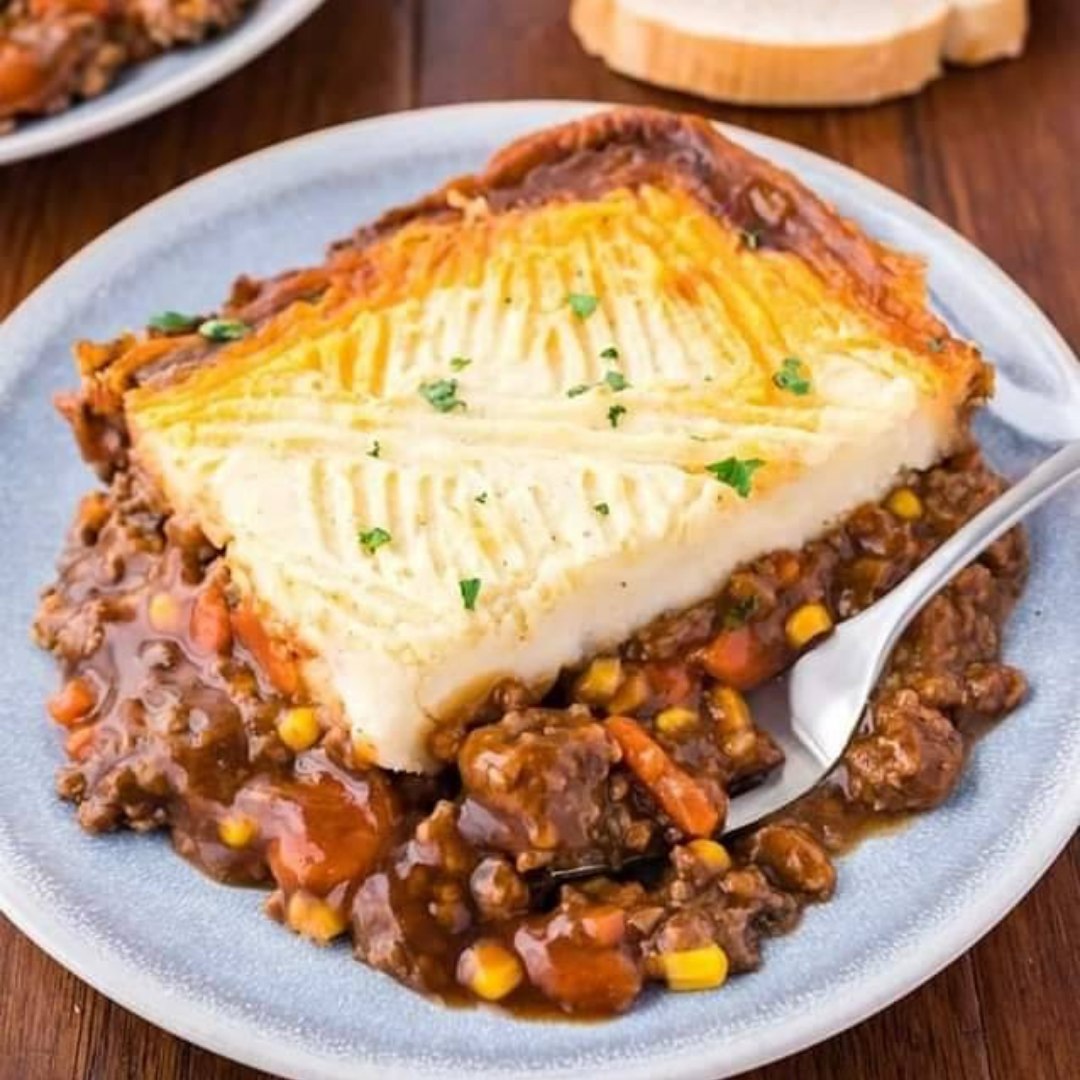 A savory blend of meat, veggies, and herbs, topped with creamy mashed potatoes, baked to a golden hue. The ultimate comfort dish.
Ingredients:
For the Meat Filling:
2 tbsp olive oil
1 cup yellow onion, chopped
1 lb 90% lean beef or lamb
2 tsp dried parsley
1 tsp dried rosemary
1 tsp dried thyme
½ tsp salt
½ tsp black pepper
1 tbsp Worcestershire sauce
2 garlic cloves, minced
2 tbsp flour
2 tbsp tomato paste
1 cup beef broth
1 cup frozen peas & carrots
½ cup frozen corn
For the Potato Topping:
2 lb russet potatoes
8 tbsp unsalted butter
⅓ cup half & half
½ tsp garlic powder
½ tsp salt
¼ tsp black pepper
¼ cup parmesan cheese
Instructions:
Set oven to 375°F (190°C). 

In a skillet, warm 2 tbsp olive oil on medium. 

Add onion. Cook till it's clear, about 2 mins. 

Add beef or lamb. Cook till brown. 

Mix in parsley, rosemary, thyme, salt, and pepper. 

Add Worcestershire and garlic. Cook for 1 min. 

Add flour, mix. Then add tomato paste and broth. Stir till it's thick. 

Add peas & carrots and corn. Cook 2-3 mins. 

For potatoes:
Peel and cut potatoes. 

Boil them in salted water till soft, 15-20 mins. 

Drain. Mash them in the pot. 

Add butter, half & half, garlic powder, salt, pepper, and cheese. Mix till creamy. 

To assemble:
Put meat mix in a baking dish. 

Top with mashed potatoes. Spread evenly. Decorate with a fork if you like. 

Bake in oven for 20-25 mins till golden.