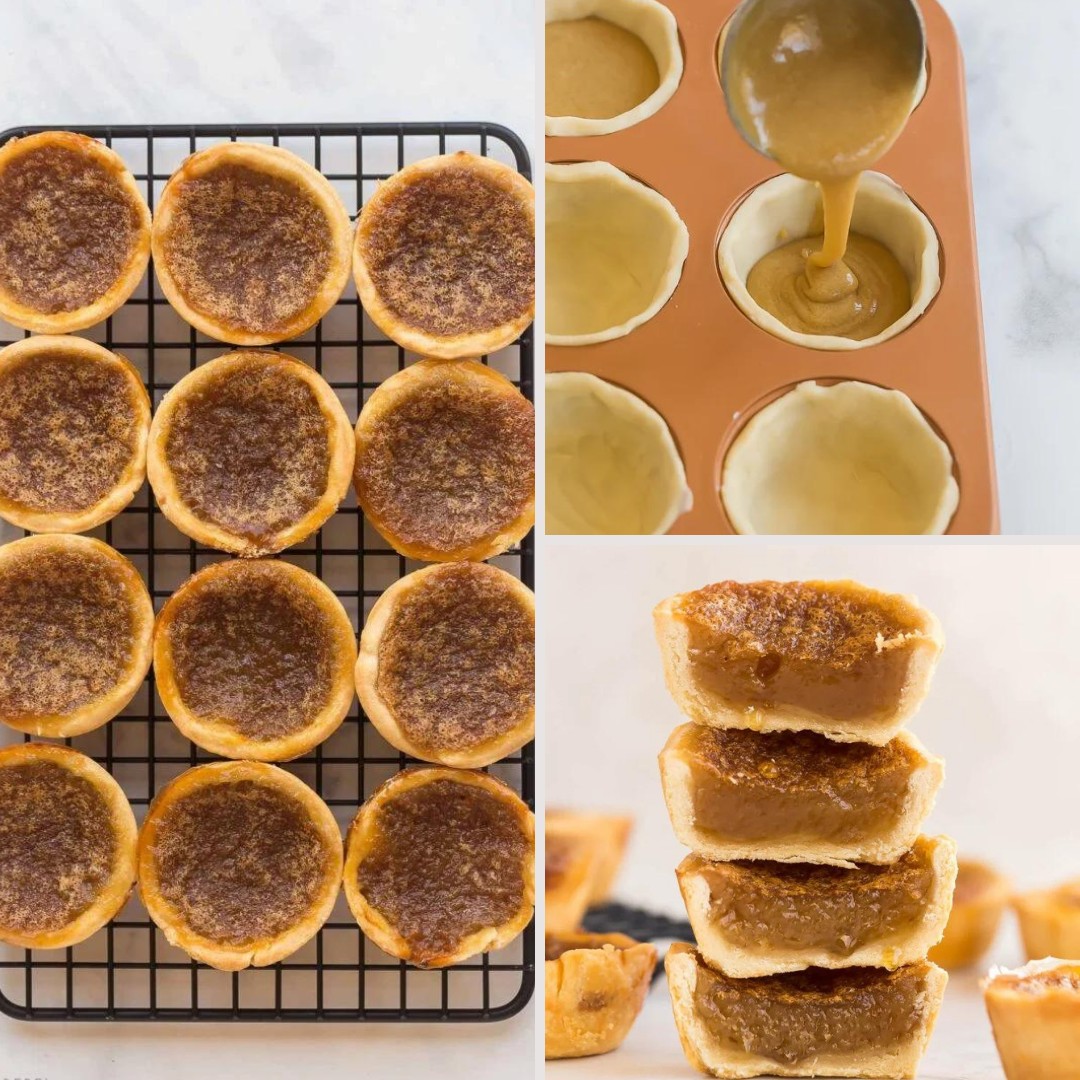 Classic Canadian delicacies with flaky pastry and gooey, sweet filling, optionally studded with raisins or pecans, a true taste of nostalgia.
Ingredients:
For the Pastry Crust:
– 1 ½ cup all-purpose flour (163 grams)
– 1 tsp sugar
– ½ tsp salt
– ½ cup cold unsalted butter, cubed (112 grams)
– ¼ cup cold water
For the Butter Tart Filling:
– 1 cup brown sugar, packed (190 grams)
– ½ cup golden corn syrup
– ¼ cup salted butter, melted
– 2 eggs
– 1 teaspoon white vinegar (optional: it helps to cut the sweetness)
– 1 teaspoon vanilla extract
– Optional: ½ cup raisins or pecans
Instructions:
For the Pastry Crust:
– In a mixing bowl, combine the all-purpose flour, sugar, and salt. 

– Add the cold, cubed unsalted butter to the dry ingredients. 

– Use a pastry cutter or your fingertips to blend the butter into the flour mixture until it resembles coarse crumbs. 

– Gradually add cold water, one tablespoon at a time, and mix until the dough comes together. 

– Shape the dough into a disk, wrap it in plastic wrap, and refrigerate it for at least 30 minutes. 
For the Butter Tart Filling:
– Preheat your oven to 400°F (200°C) and grease a muffin tin or tart pan. 

– In a mixing bowl, combine the brown sugar, golden corn syrup, melted salted butter, eggs, white vinegar (if using), and vanilla extract. Mix until smooth. 

– If desired, add raisins or pecans to the filling mixture. 
Final Assembly:
– Roll out the chilled pastry dough on a floured surface and cut it into circles to fit your muffin tin or tart pan. 

– Gently press the pastry circles into the muffin cups. 

– Pour the butter tart filling into each pastry shell, filling each about 2/3 full. 

– Bake in the preheated oven for 15-20 minutes or until the pastry is golden and the filling is set. 

– Allow the butter tarts to cool in the muffin tin or tart pan for a few minutes before transferring them to a wire rack to cool completely. 

– Once cooled, enjoy your homemade Butter Tarts!