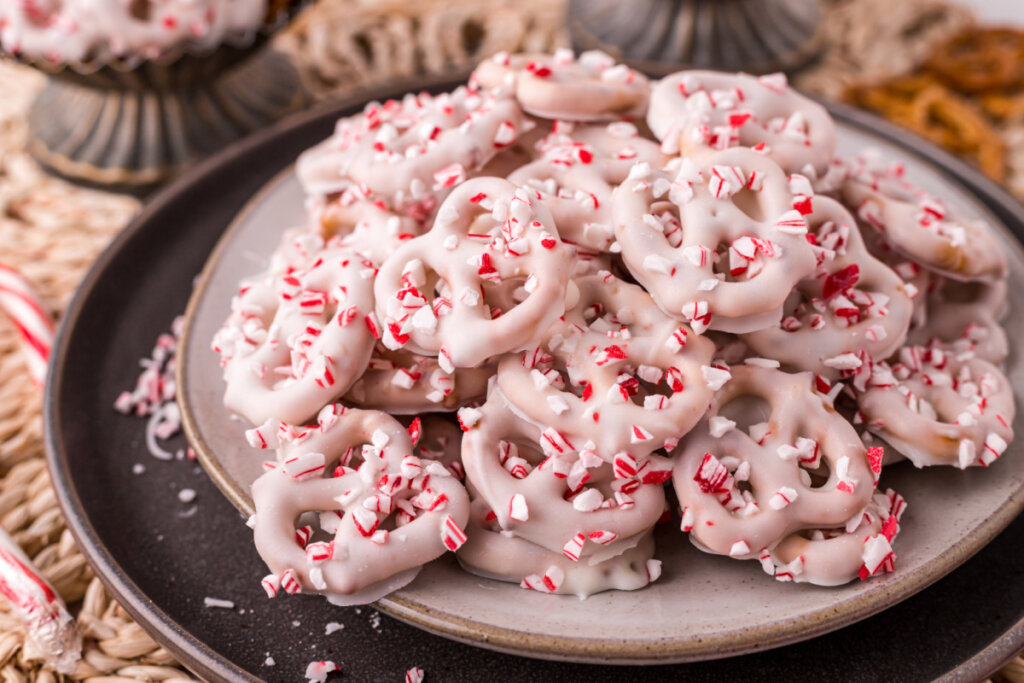 yield: 6-8 servings prep time: 15 minutes cook time: 5 minutes chill time: 1 hour total time: 1 hour 20 minutes
These Candy Cane Peppermint Pretzels are a minty, sweet, and salty treat perfect for adding to holiday cookie trays or gift bags!
INGREDIENTS
30-35 mini pretzel twists or pretzel crisps
1/2 cup crushed candy canes
INSTRUCTIONS
Line a large baking sheet with parchment paper and set it aside.
Melt the candy melts according to package directions.
Using a fork, dunk each pretzel into the melted candy coating, making sure the entire pretzel is coated. Gently shake the fork to remove any excess coating. Transfer the coated pretzel to the parchment paper. Immediately sprinkle crushed candy canes over the top. Repeat with remaining pretzels.
Allow the candy coating to harden before serving.
NOTES
Store these pretzels in an airtight container, and this recipe is good at room temperature for about 2 weeks.
You can also freeze them in an airtight container for up to 6 months. Enjoy them straight from the freezer or allow them to come to room temperature.
Speed up the hardening process by placing the baking sheet with the pretzels into the refrigerator.
This recipe easily doubles, triples, etc.
Milk or dark chocolate melts can also be used!
You can dip half of the pretzel if you don't want the entire pretzel coated.
Try this recipe with pretzel rods, too!
These pretzels make a tasty addition to cookie trays, and they make an easy holiday gift idea!
Please note that the nutritional information listed on this page is an estimation based on the products I used. Ingredients and nutritional information can vary significantly between brands. Always be sure to read labels. Please verify that a recipe fits your needs before using it. Nutrition info may contain errors, so please verify it independently. Likewise, recipes may contain errors, so please use your common sense when following them.