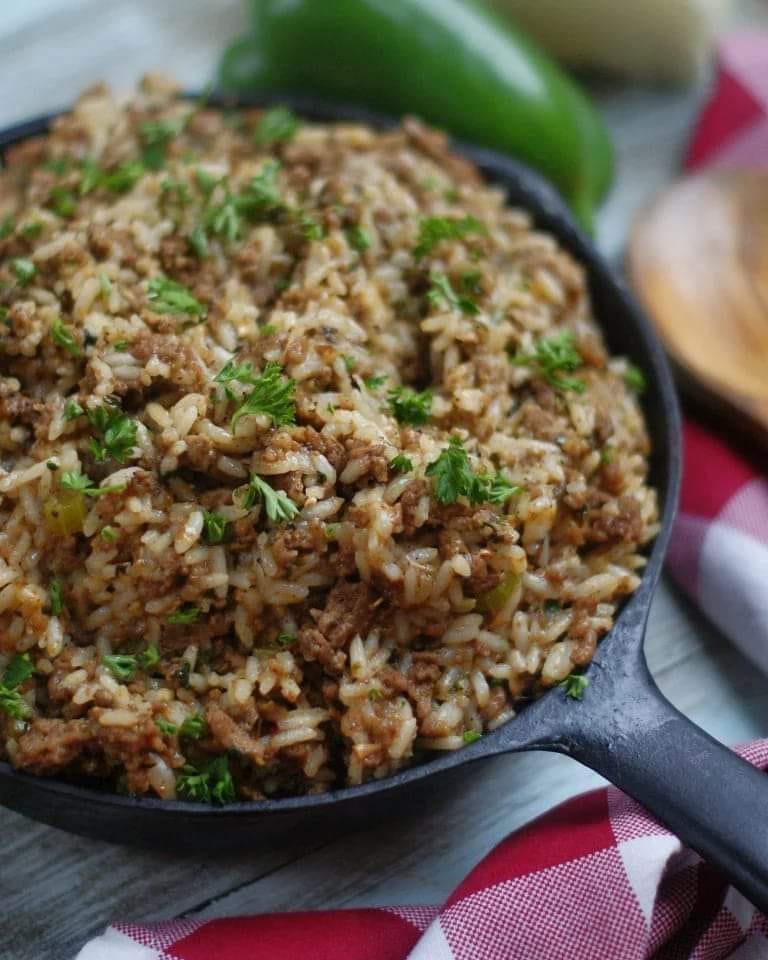 Louisiana Dirty Rice Recipe – A Flavorful Southern Delight!** 
Hey there, fellow food enthusiasts! Ready for a taste of the Deep South? Check out this scrumptious **Louisiana Dirty Rice** recipe that's sure to transport your taste buds to the heart of Louisiana with its rich and spicy flavors. Let's get cookin'! 
**Ingredients:**
– 1 lb ground beef

– 1 lb ground pork sausage

– 4-5 cups cooked rice, prepared with chicken broth

– 1 onion, finely chopped

– 1 bell pepper, finely chopped

– 3 celery stalks, finely chopped

– 3 cloves garlic, minced

– 1/4 cup chopped fresh parsley

– 1/4 cup chopped green onions (scallions)

– 2 tablespoons vegetable oil

– 2 teaspoons paprika

– 1 teaspoon dried thyme

– 1 teaspoon dried oregano

– 1 teaspoon dried basil

– 1/2 teaspoon cayenne pepper (adjust to your spice preference)

– Salt and black pepper to taste
**Instructions:**
1. In a large skillet or cast-iron pan, heat the vegetable oil over medium-high heat.
2. Add the ground beef and pork sausage. Break them up with a spatula and cook until they're browned and crumbled, about 5-7 minutes.
3. Stir in the chopped onion, bell pepper, and celery. Sauté until the veggies are tender and the onions are translucent, about 5 minutes.
4. Add the minced garlic, paprika, thyme, oregano, basil, cayenne pepper, salt, and black pepper. Cook, stirring constantly, for an additional 2-3 minutes until the spices are fragrant.
5. Stir in the cooked rice, making sure it's well combined with the meat and vegetable mixture. Cook for another 5-7 minutes, stirring occasionally, allowing the rice to absorb the flavors and get slightly crispy.
6. Just before serving, fold in the chopped parsley and green onions. This adds a burst of freshness and color to your Dirty Rice.
7. Taste and adjust the seasoning if needed, adding more salt, pepper, or cayenne to suit your taste.
8. Serve your Louisiana Dirty Rice hot as a flavorful side dish or a satisfying main course.
**Get ready for a spicy, savory journey through Louisiana cuisine with this Dirty Rice dish!** Share the love of Southern comfort food with your friends and family. Let us know in the comments if you've tried this recipe and how it turned out!