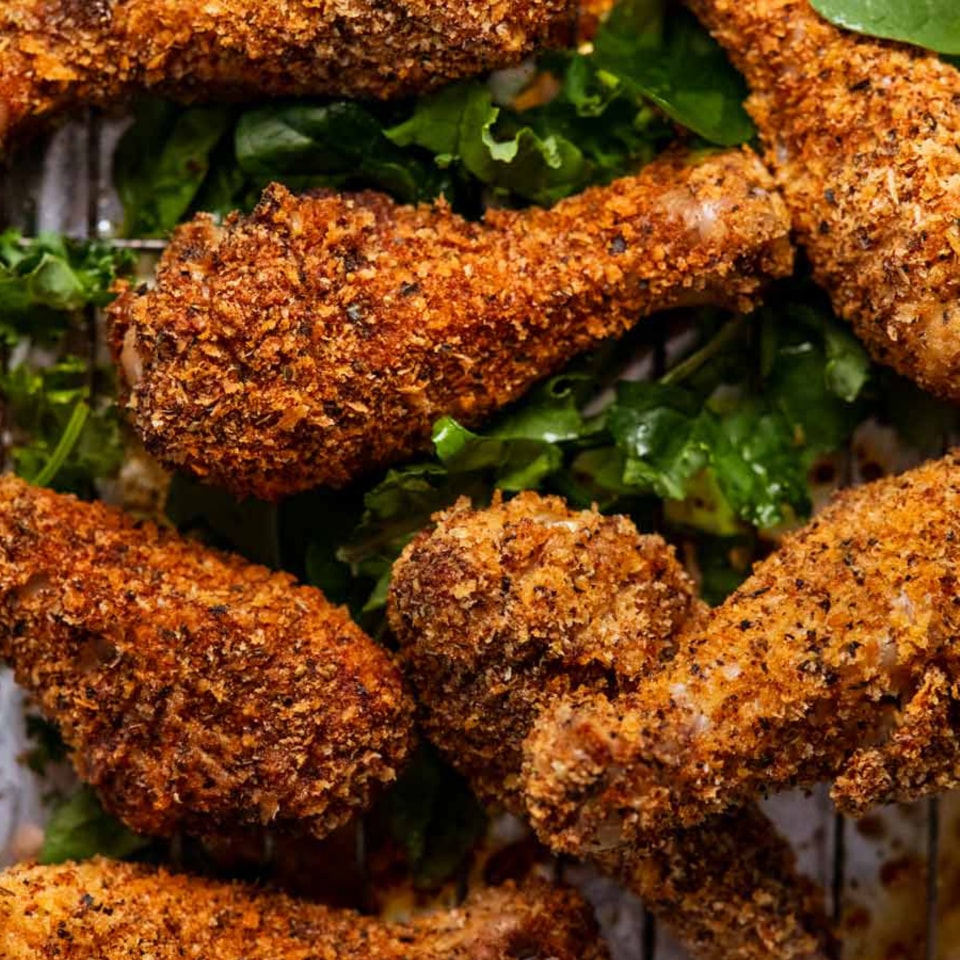 Hey there, crispy chicken lovers! Get ready to sink your teeth into these mouthwatering Crunchy Crumbed Chicken Drumsticks. They're the perfect blend of crispy on the outside and tender on the inside. Let's dive right in! 
Ingredients:
For the Chicken Drumsticks:
– 8 chicken drumsticks

– 1 cup all-purpose flour

– 2 large eggs

– 2 cups breadcrumbs

– 1 teaspoon paprika

– 1 teaspoon garlic powder

– 1 teaspoon onion powder

– Salt and pepper to taste

– Cooking oil for frying

For the Dipping Sauce (Optional):

– 1/2 cup mayonnaise

– 2 tablespoons ketchup

– 1 tablespoon Dijon mustard

– 1 teaspoon honey

– 1/2 teaspoon garlic powder

– Salt and pepper to taste

Instructions:

 Preheat your oven to 350°F (175°C). Place a wire rack on a baking sheet and set it aside. This will be used for baking the drumsticks after frying.

 In a shallow bowl, combine the flour with a pinch of salt and pepper. In another bowl, beat the eggs.

 In a third bowl, mix the breadcrumbs with paprika, garlic powder, onion powder, salt, and pepper.

 Take a chicken drumstick and coat it in the flour mixture, shaking off any excess.

 Dip the floured drumstick into the beaten eggs, ensuring it's well coated.

 Roll the drumstick in the breadcrumb mixture, pressing gently to make sure the crumbs adhere.

 Place the coated drumstick on a plate, and repeat this process for all the drumsticks.

 In a large skillet, heat about 1 inch of cooking oil over medium-high heat.

 Carefully add the breaded drumsticks to the hot oil. Cook for about 5-7 minutes per side or until they are golden brown and crispy. Ensure the chicken is cooked through; it should have an internal temperature of 165°F (75°C).

 Transfer the fried drumsticks to the prepared wire rack on the baking sheet to drain any excess oil.

 Place the baked drumsticks in the preheated oven for an additional 10-15 minutes to ensure they are fully cooked and to keep them warm.

 While the chicken is baking, you can prepare a dipping sauce by combining mayonnaise, ketchup, Dijon mustard, honey, garlic powder, salt, and pepper in a small bowl. Mix well.

 Serve your Crunchy Crumbed Chicken Drumsticks hot with the optional dipping sauce and your favorite sides.

Enjoy the crispy, flavorful goodness of these drumsticks with every bite! Share this recipe with your friends and family, and make any mealtime a delight.