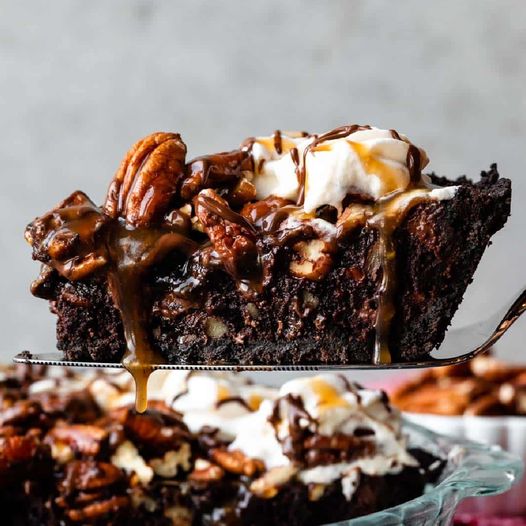 Texture: This pie is mega-rich. Each bite delivers a chewy caramel fudge brownie, studded with pecans and chocolate chips, on a crisp, buttery Oreo cookie crumb crust.
Flavor: Chocolate. Caramel. Pecans. Oreos. Any questions?
Ease: While there's a few separate parts to this pie, and there's nothing difficult about any of them.
The 2-ingredient Oreo pie crust is quick and easy, and there's no pre-baking required. The brownie batter can be made in 1 bowl and whisked by hand.
Make the brown sugar caramel sauce on the stove while the pie is in the oven.
It's a less-fussy way to make homemade caramel, and—though you can use one if desired—there's no candy thermometer needed.
It's basically the same delicious sauce we use on this pecan pie cheesecake!
The best part? Not only will you use homemade caramel sauce for topping, you'll prick the warm pie all over with a fork and spread the caramel right on top so it gloriously seeps down into the pie. YES!
Description
This undeniably indulgent caramel turtle brownie pie combines an easy Oreo cookie crust, fudge brownie filling, pecans, homemade caramel, plus optional chocolate drizzle and whipped cream. Be sure to make the brownie batter immediately before spreading into the crust.
Ingredients
Crust
22 regular Oreo cookies (not Double-Stuf)
5 Tablespoons (71g) unsalted butter, melted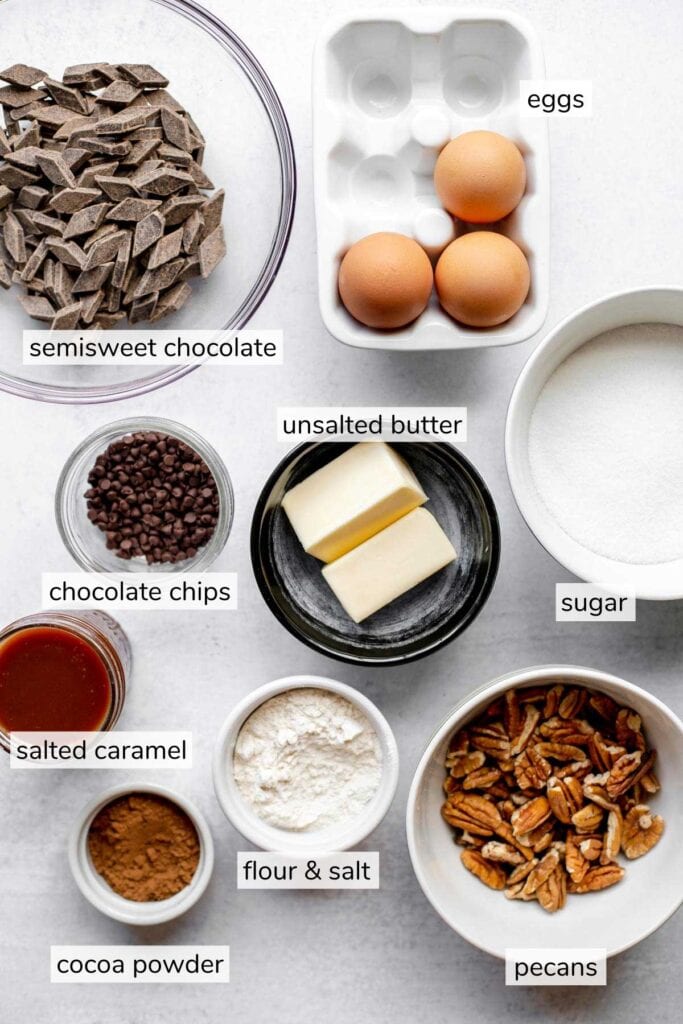 Brownie Filling
1/2 cup (8 Tbsp; 113g) unsalted butter
2 Tablespoons (30ml) vegetable oil or melted coconut oil
1 cup (200g) granulated sugar
2 large eggs + 1 egg yolk, at room temperature
2 teaspoons pure vanilla extract
3/4 cup (62g) unsweetened natural or dutch-process cocoa powder
1/2 cup (63g) all-purpose flour (spooned & leveled)
1/4 teaspoon salt
3/4 cup (85g) chopped pecans
3/4 cup (135g) semi-sweet chocolate chips
Caramel Sauce
6 Tablespoons (85g) unsalted butter
3/4 cup (150g) packed light or dark brown sugar (I use dark)
1/4 cup (60ml) heavy cream
1/4 teaspoon salt
1.5 Tablespoons (23ml) light corn syrup*
Toppings
1 cup (125g) chopped pecans or pecan halves
2 ounces (56g) semi-sweet or milk chocolate, finely chopped
optional: whipped cream and/or vanilla ice cream
Cook Mode Prevent your screen from going dark
Instructions: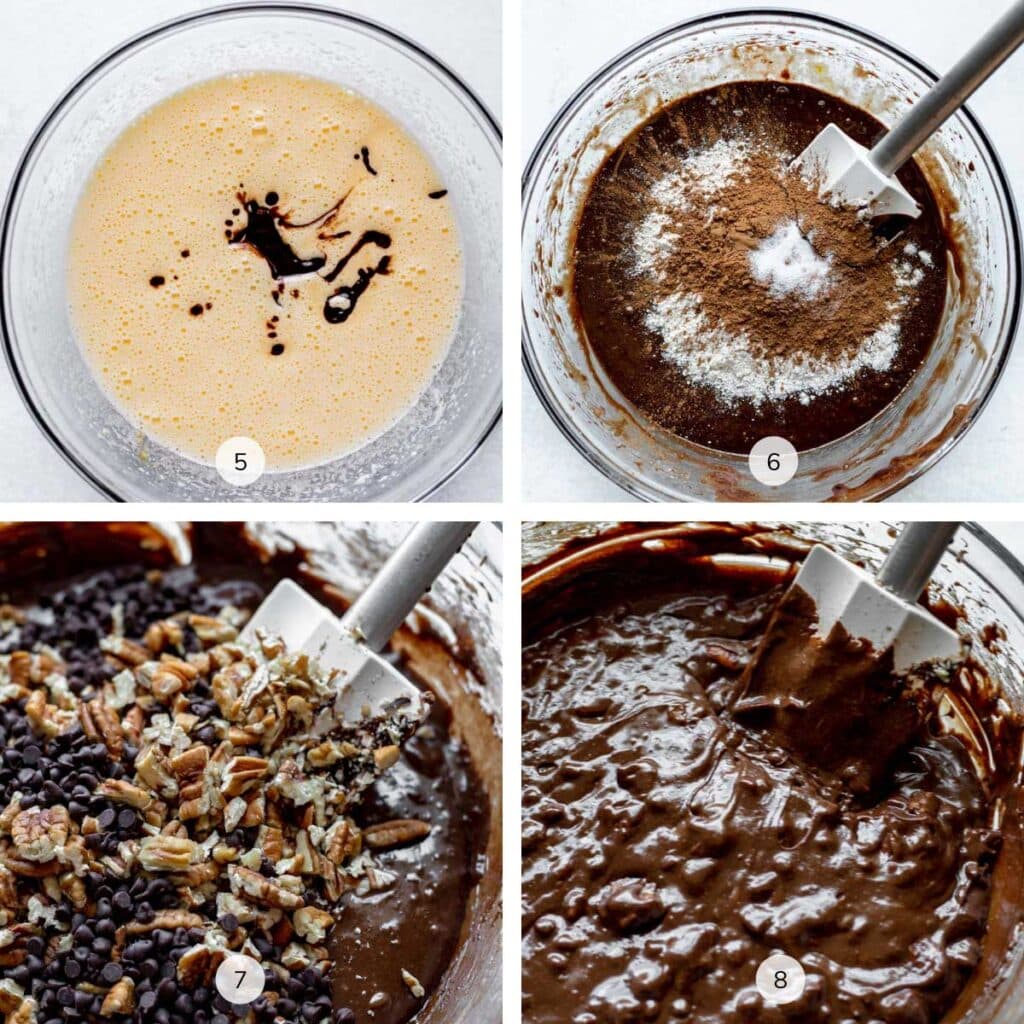 Preheat oven to 350°F (177°C).
Make the crust: In a food processor or blender, pulse 22 Oreos (including the cream filling) into a fine crumb. You should have about 2 cups (packed) crumbs, or 250g. Pour crumbs into a large bowl. Add the melted butter and stir to combine. The mixture will be thick and quite wet. Try to smash/break up any large chunks. Pour the mixture into an ungreased 9-inch pie dish. With medium pressure using your hand, pat the crumbs down into the bottom and up the sides to make a compact, thick crust. If the mixture seems really wet and is not forming a nice crust, grind up 2 more Oreos and mix those crumbs in.
Tip: You can use a small flat-bottomed measuring cup to help press down the bottom crust and smooth out the surface, but do not pack down too hard.
And run a spoon around the bottom "corner" where the edge and bottom meet to help make a rounded crust⁠—this helps prevent the crust from falling apart.
For more shaping technique tips, see the Oreo cookie crust recipe page.
Make the brownie filling: Slice the butter into Tablespoon-size pieces and melt in the microwave in a large heatproof bowl or in a small saucepan on the stove. (Transfer melted butter to a large bowl if using the stove.) Whisk the oil and granulated sugar into the melted butter.
Let it sit for 3–5 minutes to slightly cool. Whisk in 2 whole eggs, 1 egg yolk, and vanilla extract until combined.
Add the cocoa powder, flour, and salt and whisk until combined.
Batter will be thick. Fold in the chopped pecans and chocolate chips.
Batter will continue to thicken the longer it sits, so immediately spoon and spread evenly into crust.
Bake for 30 minutes, and then tent with foil and bake for another 8–10 minutes. (Err on the side of under-baking because the brownie filling will set as it cools.)Meanwhile,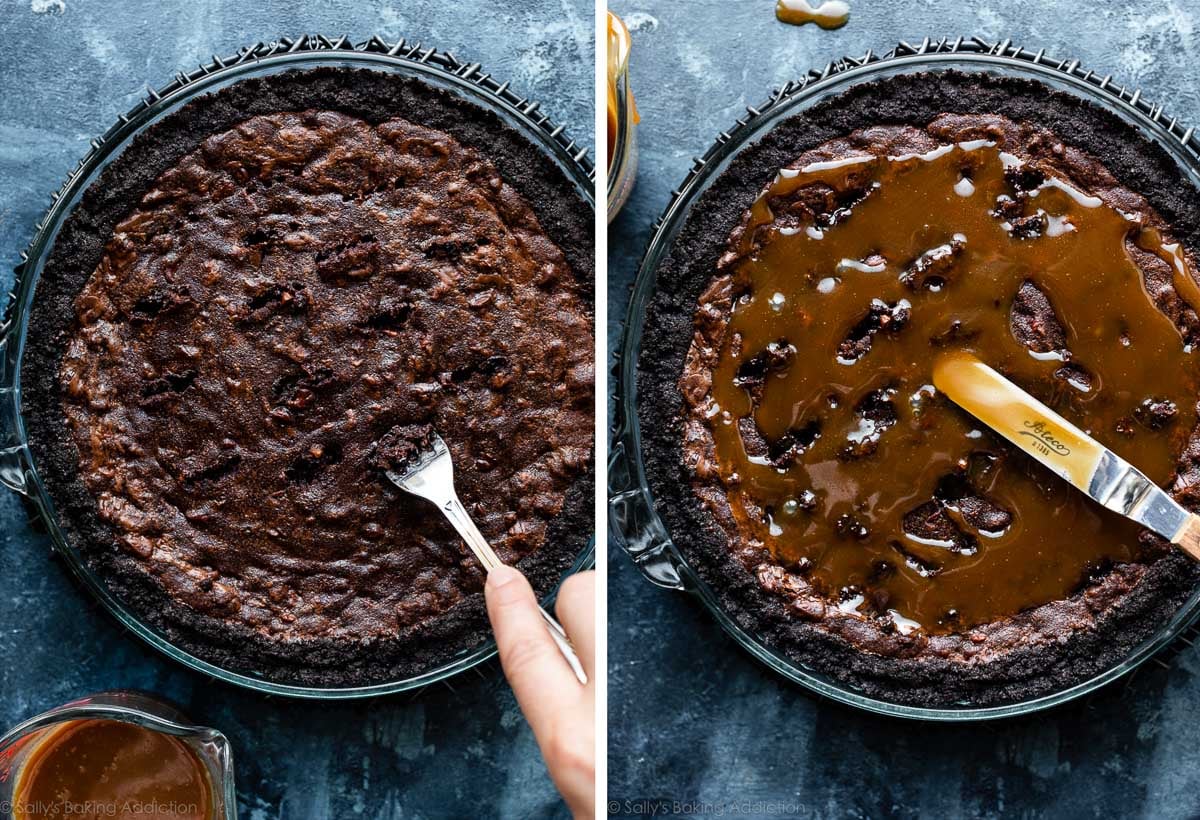 make the caramel sauce: Heat the butter, brown sugar, heavy cream, salt, and corn syrup together in a medium saucepan over medium heat. With a spatula or whisk, stir occasionally until butter has melted and mixture is combined. Bring to a simmer. Once simmering, stop stirring and allow to simmer/boil for 1–2 minutes. Remove from heat, and then let cool until the pie is done baking. The sauce will thicken as it cools. (If you want to be precise, the sauce is done when it reaches 215°F (102°C) when using a candy thermometer.)
Add caramel and pecans on top: Remove pie from the oven. Let it sit for 5 minutes to slightly cool. Then, using a fork, prick holes all over the surface of the pie. Drizzle and spread about 1/4 cup warm caramel sauce over the pie. (Reserve the rest for more topping/serving.) Some of the caramel will seep into the pie through the holes. Set aside for 1 hour to slightly cool before adding toppings, or cool completely.

Toppings: Spoon pecans on top of caramel-infused pie. If desired, pipe or spoon whipped cream on top or around the edges. I used a Wilton 1M piping tip on the pictured pie. Melt the chocolate in a double boiler or use the microwave. Microwave in 20 second increments, stirring after each until completely melted. Drizzle melted chocolate and more of the caramel sauce on top. (You will have some caramel leftover.) Slice and serve with optional vanilla ice cream.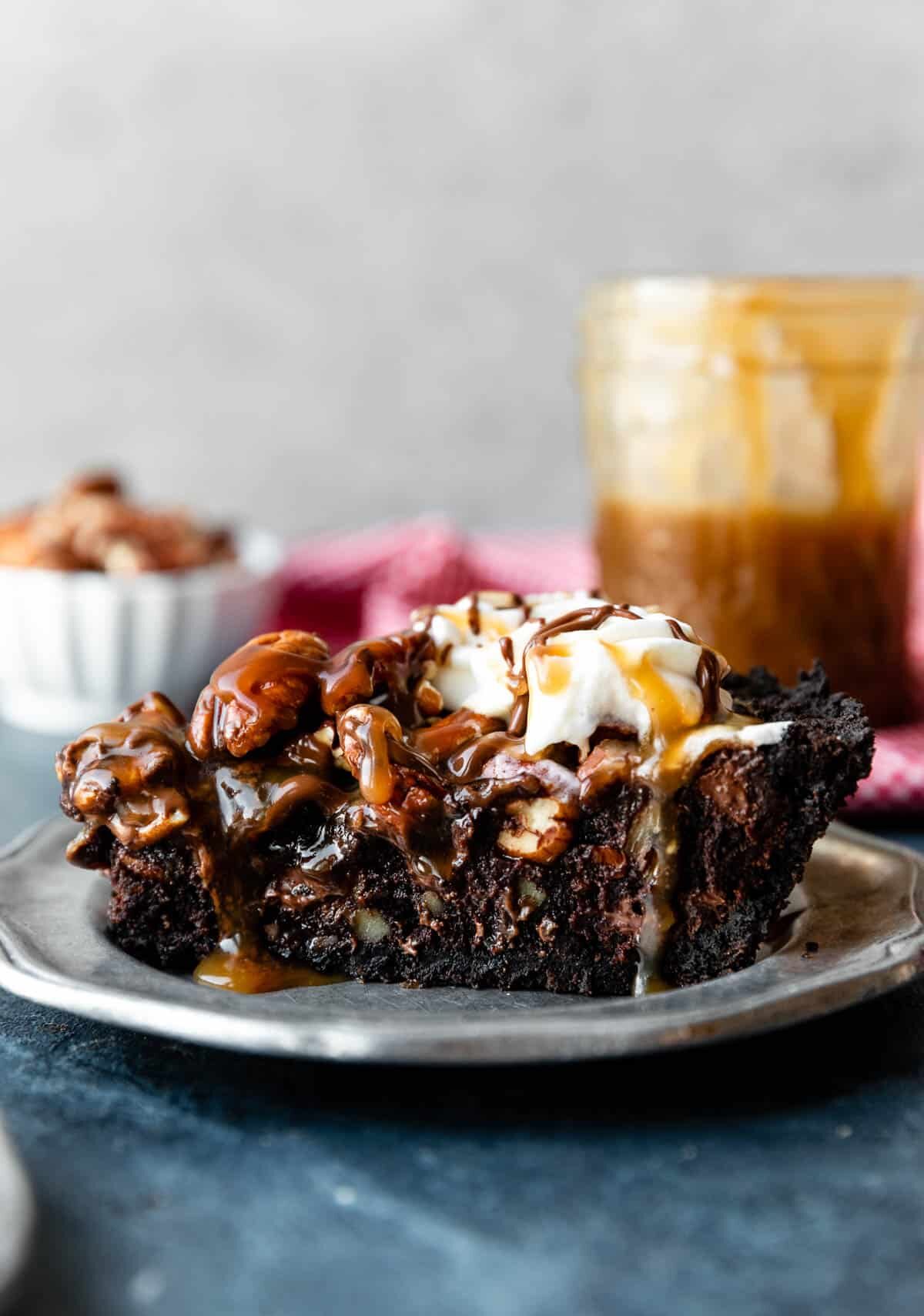 Cover and store leftover pie at room temperature for up to 2 days or in the refrigerator for up to 4–5 days.