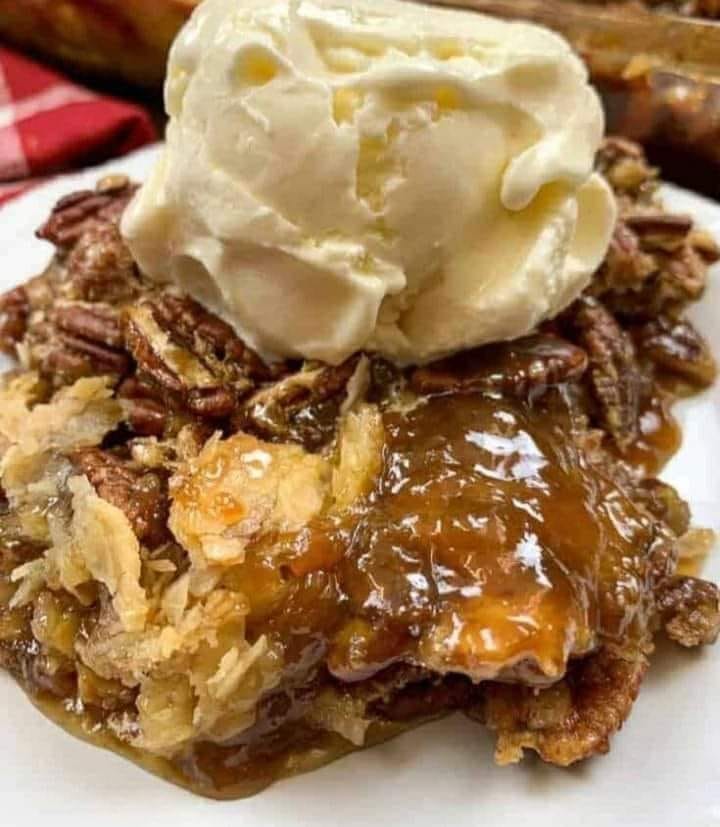 Ingredient:
6 tbsp real butter ( no substitutions)
1 cup pecans chopped
1 and 1/2 cups self rising flour
1 and 1/2 cups sugar
2/3 cup of milk
1 tsp vanilla
1 and 1/2 cups brown sugar packed
1 and 1/2 cups hot water
.
Directions:
Preheat oven to 350
Pour melted butter into a 9×13 baking dish
Sprinkle pecans over butter
In a bowl mix flour, sugar, milk, and vanilla stir to combine but do not over mix
Pour batter over the pecans and butter but do not mix!
Sprinkle brown sugar evenly over the batter . Again DO NOT MIX
Carefully pour the water over the mixture do not stir! Bake for 30- 35 minutes or until golden brown .
NOTE: Cobbler will have a slight jiggle. If concerned cook 8 minutes longer. Allow to cool completely just as you would with pecan pie before serving. Enjoy!