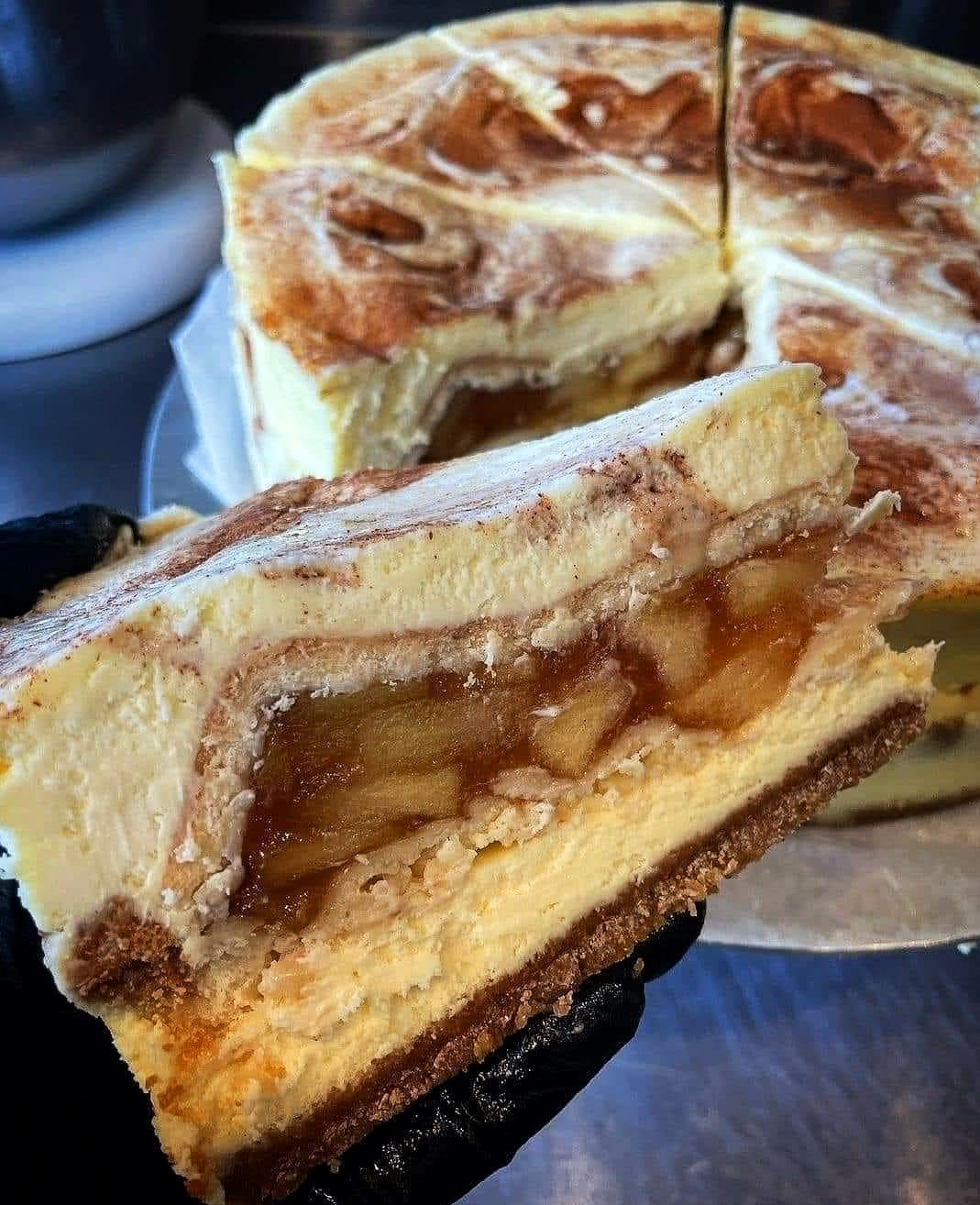 Ingredients:
1 package Chips Ahoy Thins Cinnamon Sugar Cookies, crumbed
4 TBSP butter, melted
2 packages (8 oz) cream cheese, room temperature
1/2 cup sugar
1/2 cup brown sugar
1 tsp vanilla
1 tsp apple pie spice mix
1/4 cup sour cream
1/4 cup heavy cream
3 eggs, room temperature
1/2 cup toffee baking chips
2 TBSP butter
2 apples, peeled, cored and chopped (I use Braeburn)
splash of lemon juice
2 TBSP brown sugar
1/2 tsp cinnamon
1 tsp honey
1/4 cup caramel sauce
Directions:
Grease a 9 inch springform pan. On the outside of the pan, wrap a sheet of tin foil around the bottom and partially up the sides of the pan. Preheat oven to 325 degrees.
Mix together the melted butter and cookie crumbs. Press into the bottom of the springform pan. Set aside.
Beat the cream cheese, sugar, brown sugar, vanilla and apple pie spice mix until smooth. Beat in the sour cream and heavy cream, then the eggs, one at a time. Mix in the toffee chips.
Pour into prepared crust and bake for about 60 – 75 minutes, until the center is just set.
Remove from oven and allow to cool. Refrigerate for at least 2 hours. Meanwhile, in a saute pan, melt the butter over medium heat. Add the chopped apples and lemon juice.
Cook and stir until they soften. Mix in the brown sugar and cinnamon. Cook and stir one more minute then remove from heat and stir in the honey and caramel sauce. Cool completely to room temperature.
Gently run a knife around the cheesecake before removing the side of the springform pan. Spoon the cooled apple mixture over the cheesecake and serve. Store leftovers, covered, in refrigerator.