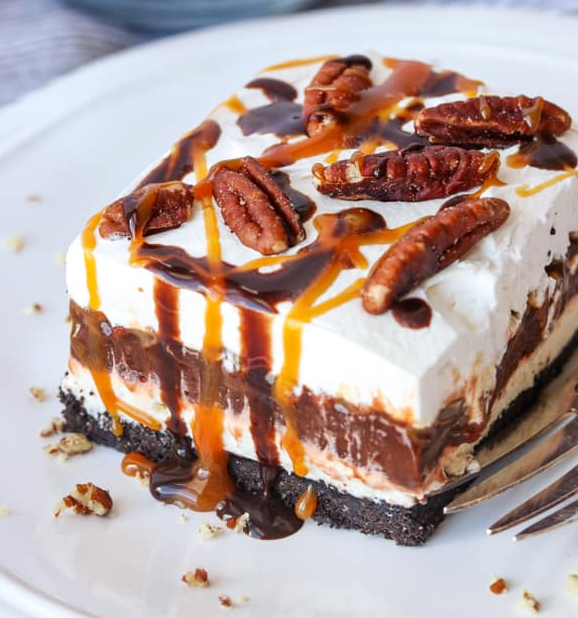 Ingredients:
20 Chocolate Oreos with filling

4 tablespoons butter melted

3.9 ounces instant chocolate pudding

1 ½ cups milk

6 ounces cream cheese room temperature

½ cup confectioners' sugar

½ teaspoon pure vanilla extract

8 ounces Cool Whip or 1 recipe of my Stabilized Whipped Cream divided

1 cup pecan pieces divided

⅓ cup, plus 2 tablespoons caramel sauce divided

chocolate sauce for drizzling
Prepare an 8 X 8-inch baking dish by lining it with parchment, if desired. This will allow you to lift the bars out of the pan and cut them evenly into squares.
Melt the butter in a medium microwavable bowl, and place the Oreo cookies with filling into a blender or food processor to crush into fine crumbs. Add the crumbs to the butter and mix well.
Place the cookie mixture into the pan and spread to the sides, patting down to even it out. Place into the freezer to set for a minimum of 30 minutes.
In a medium bowl, mix the chocolate pudding with the 1 ½ cups of milk. DO NOT use 2 cups of milk as is called for on the package. We want the consistency of the pudding to be thicker and not runny. Place into the fridge to set.
In a mixing bowl, beat the cream cheese until smooth. Scrape down the bowl and add the confectioners' sugar and vanilla extract. Beat again until completely mixed. With a rubber spatula, mix in 1 ½ cups of the Cool Whip or Stabilized Whipped Cream, and mix well.
Remove the crust from the freezer and place dollops of the cheesecake filling onto the crust. Using an offset spatula, spread the cream evenly to all sides of the pan.
Place dollops of pudding on top of the cheesecake and gently spread to the edges of the pan.
Drizzle the 1/3 cup of caramel sauce all over the pudding as it will be difficult to spread.
Sprinkle 3/4 cup of the pecan pieces over the caramel sauce.
Place dollops of remaining Cool Whip or Stabilized Whipped Cream on top and completely cover. Place into the freezer for a minimum of two hours before serving. The caramel sauce may be runny upon removal, but that's ok.
Remove the bars from the pan by lifting up the sides of the parchment and drizzle with additional caramel and chocolate sauces, and sprinkle with remaining pecan pieces either before or after slicing into individual servings.