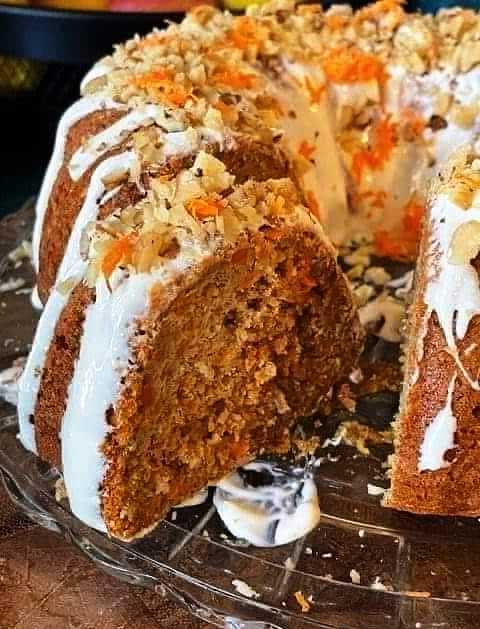 Generously spray bundt pan with cooking oil and lightly dust with flour.
Cake Batter:
1 box of Yellow Cake Mix
3 eggs
1 cup of water
1/2 cup of applesauce
2 cups of grated or food processed carrots.
Blend until combined and lump free.
In a separate bowl add
4 oz. of Room temperature Fat Free Cream Cheese
1 tbsp of Sweetened Condensed Milk
3 tbsp of powdered sugar mixed with 2 1/2 tbsp. of water
With hand mixer, beat until smooth and creamy. Set aside
30 grams of chopped Walnuts, this is where you want to use your scale. You'll get more pow for the points
Bake 45-50 minutes or until inserted skewer comes out clean, this one is tricky although skewer was clean mine could have done with 5 more minutes, ovens vary so check at 45 mins.
Let cool for 20 minutes before turning out onto chosen plate.
When ready to frost, make sure your frosting is thin enough to drizzle if it isn't, you can microwave it for 10 seconds at a time until it is, don't cook your cream cheese.
Frost or drizzle your cake any which way you want. Top with walnuts for a crunch that goes well with this moist cake and why not add some shredded carrots for a bit of color