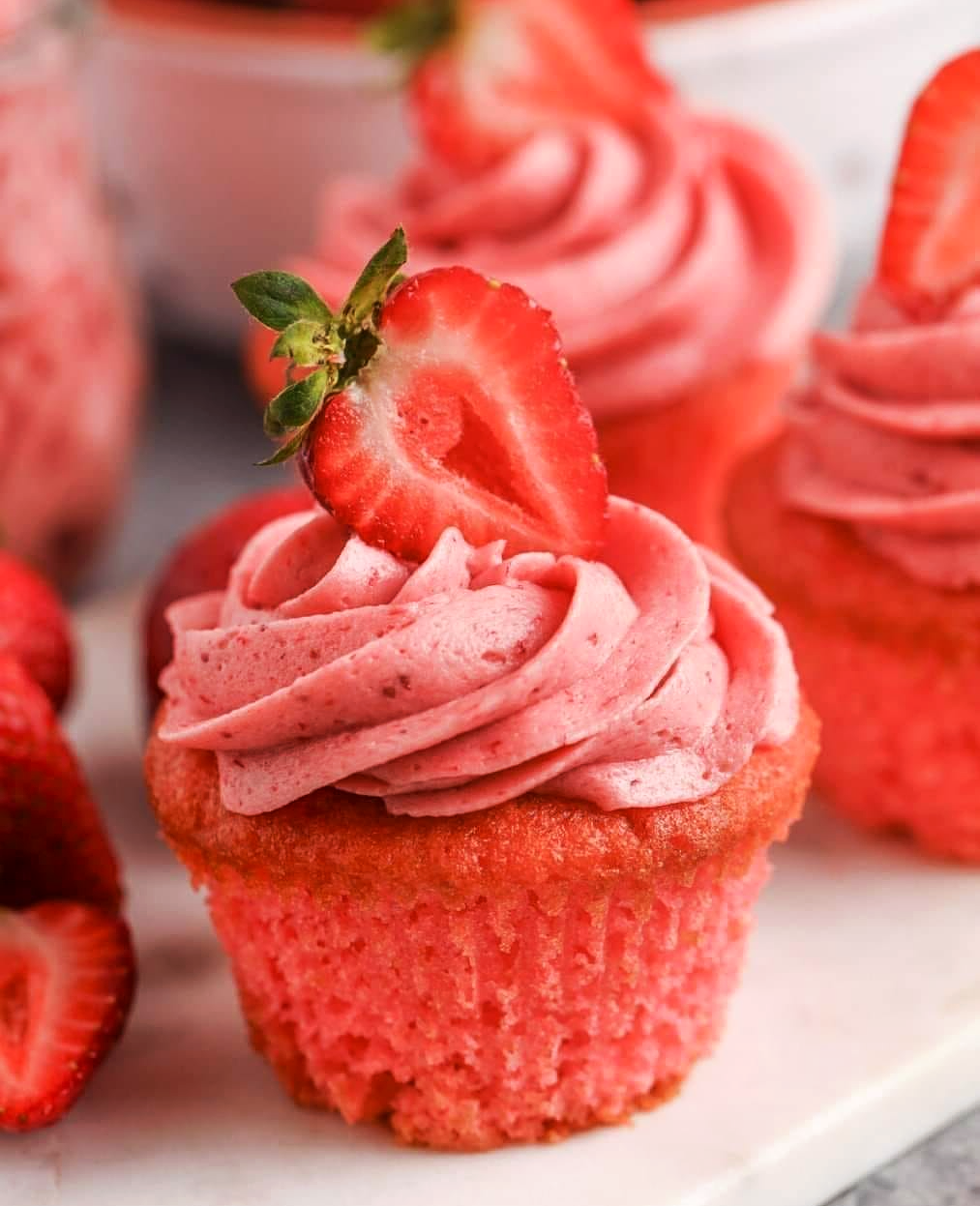 ▢2 ½ cups (310g) , all purpose plain flour (note 1 for gluten free option)

▢1 cup (200g) granulated sugar

▢3 teaspoons baking powder

▢3 teaspoons beetroot powder, or a few drops of vegan-friendly red food dye (note 2)

▢Pinch of any good-quality salt, optional
▢3 cups (360g) ripe strawberries, fresh or frozen then defrosted (weighed after stems have been removed)

▢⅓ cup (85g) dairy-free milk

▢⅓ cup (85g) light-tasting vegetable oil

▢1 tablespoon apple cider vinegar, optional

▢1 teaspoon vanilla extract, optional
▢1 quantity Vegan Strawberry Cream Cheese Frosting, OR

▢1 quantity Vegan Strawberry Frosting

▢Freeze-dried strawberries or raspberries
Note: I'd recommend using grams for this recipe. Like all my recipes, this was tested using grams so I can't vouch for results using the cups measurement. Too much liquid will create overly moist cupcakes and too much flour will create dry cupcakes. This can be avoided using the grams measurement.

Preheat the oven to 180°C (350°F). Line 1-2 cupcake trays with liners.
MAKING THE VEGAN STRAWBERRY CUPCAKES:
Add all your strawberries to a blender or food processor. Puree until there are no more chunks. Set aside.

Add all the dry ingredients to a large mixing bowl and mix until combined or until there are no more big lumps. If you're using the food dye, use it with the wet ingredients.

Add the strawberry puree and rest of the wet ingredients to the mixing bowl. Fold the mixture until

just

combined. The batter should be thick and bubbly. Lumps in the batter are fine as long as they aren't lumps of flour. Over mixing the batter will result in dense cupcakes.

Divide the batter between your cupcake liners.

Bake the cupcakes in the oven for 18-20 minutes or until you can insert a skewer or toothpick into a cupcake and it comes out clean. The baking time will depend on your cupcake tray and size of your individual cupcakes.

Cool the cupcakes in the tray for 5 minutes then transfer them to a cooling rack. These cupcakes may brown underneath which is normal. If you eat the cupcakes immediately, they may stick a little to the liners and will be very moist (this is due to the high amount of fruit in the recipe). However, when they cool, they'll peel away more easily and the texture will change.
DECORATING AND SERVING THE VEGAN STRAWBERRY CUPCAKES:
Make your frosting of choice according to instructions.

When the cupcakes are completely cool, use a piping bag with a star shaped nozzle to frost the cupcakes. Alternatively, use a knife to spread the frosting on the cupcakes. Decorate with fresh strawberries and freeze-dried strawberries/raspberries if desired.

Serve immediately. Alternatively, store the frosted cupcakes in an airtight container in the fridge up to 3 days. Allow them to slightly warm up at room temperature before serving. If the cupcakes are unfrosted, they can keep at room temperature