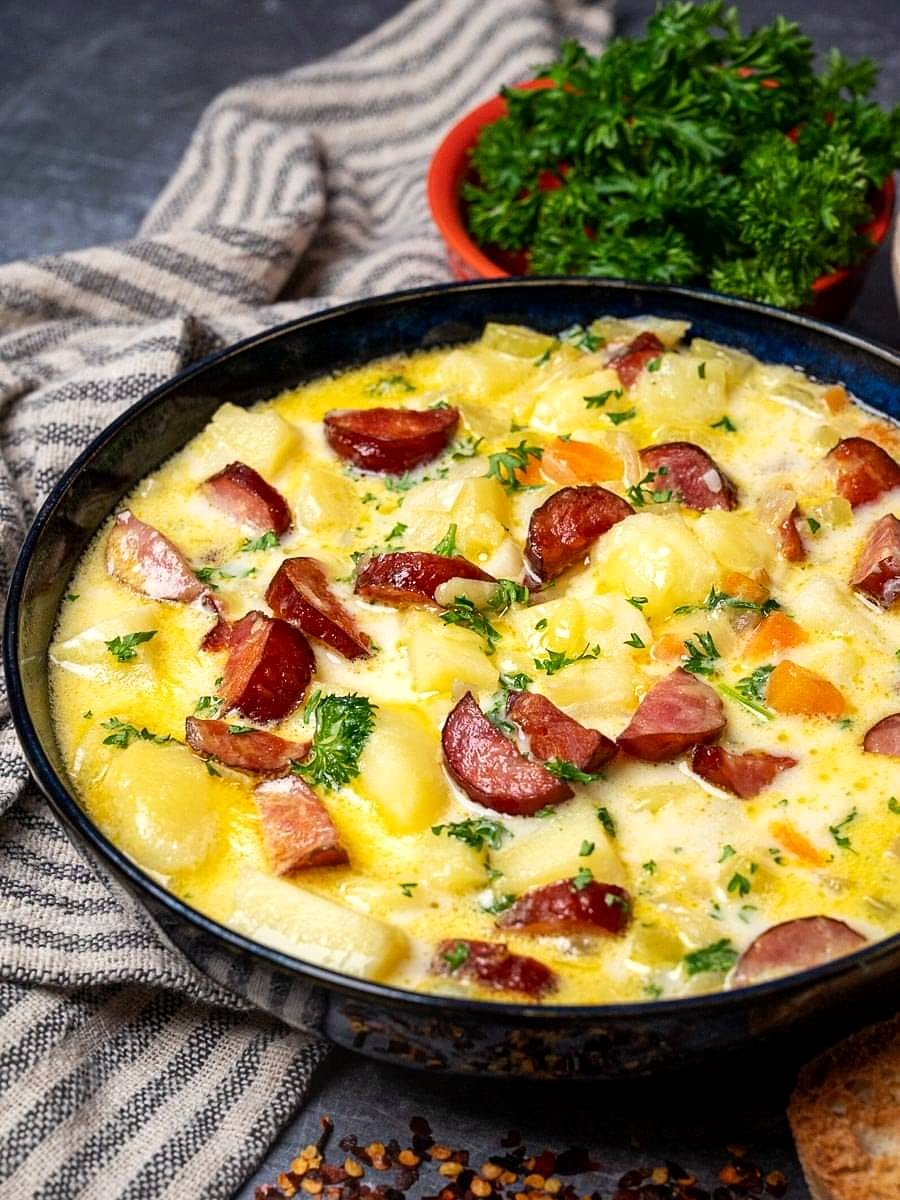 We've had some chilly, rainy days here in Scotland, so it's definitely time for soup! I wanted some proper comfort too, so I made a large pot of this soup with kielbasa and potatoes. Delicious doesn't even begin to cover it!
Ingredients
1 tablespoon olive oil
300 g (10.5 oz) kielbasa sausage, cut into bite-size pieces
1 medium onion, diced
1 medium carrot, diced
2 celery ribs, diced
4 garlic cloves, finely chopped
½ teaspoon red chilli flakes
750 g (1 ½ lb) potatoes, peeled and cubed
1.25 litres (5 cups) chicken stock
300 ml (1 ¼) full-fat milk
100 g (3.5 oz) cheddar cheese, grated
30 g (½ cup) fresh parsley, roughly chopped
Salt and pepper to taste
Heat the oil in a large pot or Dutch oven and fry the kielbasa for 4-5 minutes over medium heat until slightly crispy. Remove the sausage with a slotted spoon and set it aside.
Add the onion, carrot and celery to the same oil you cooked the kielbasa in and cook for 5 minutes until softened.
Stir in the garlic and red chilli flakes and continue to cook for another minute until fragrant.
Add the potatoes and chicken stock to the pot and bring to a boil. Lower the heat and simmer for 10-12 minutes, covered with a lid, until the potatoes are fork-tender
Take a ladle of soup and mix it with the milk in a measuring jug or bowl to temper it. Pour the mixture into the pot, then add the cooked kielbasa.
Add the cheddar cheese and stir until completely melted.
Simmer the soup for 2-3 more minutes until it thickens some more, then stir in the parsley. Season to taste, then divide into bowls and serve with extra grated cheddar on top if you