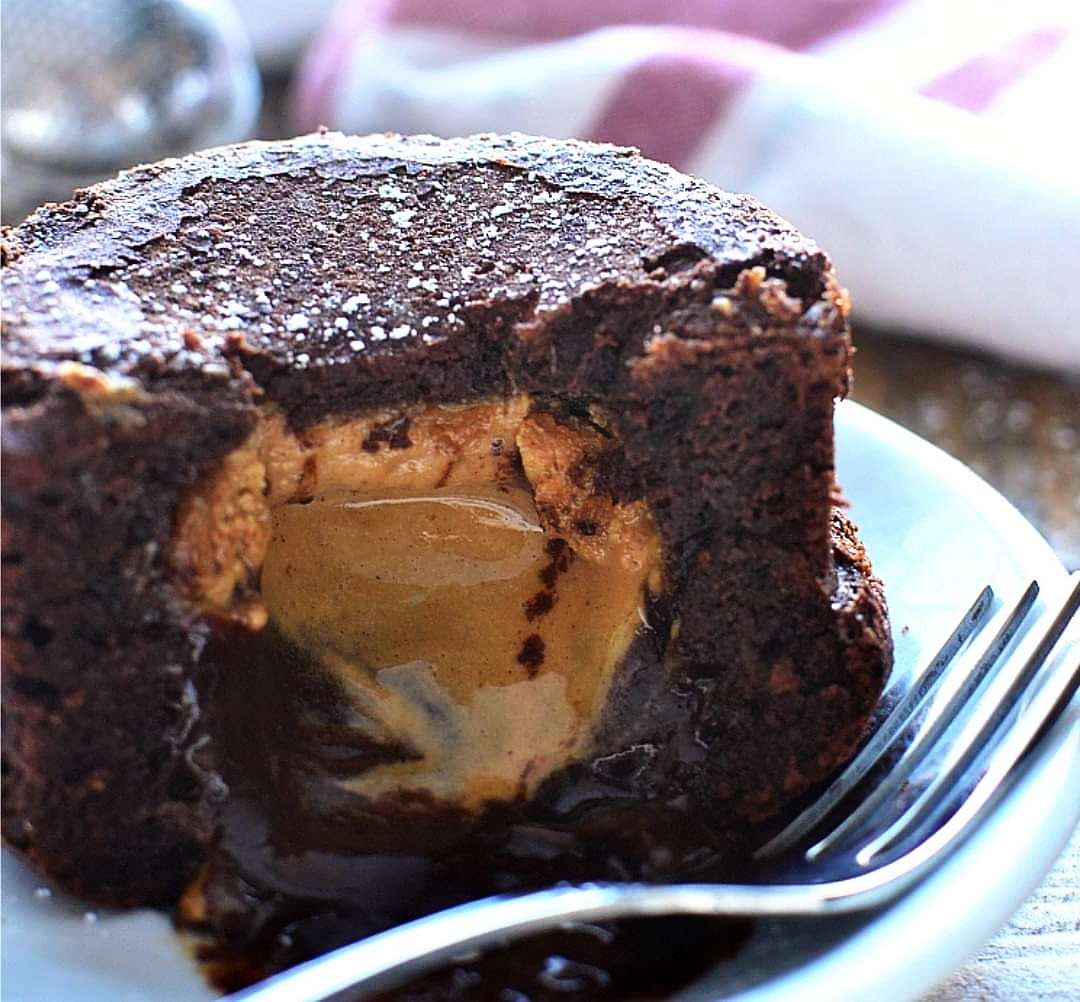 Ingredients:
1 stick + 2 Tbsp. unsalted butter
1/4 c. + 1 Tbsp. flour
1 Tbsp. cocoa powder
4 oz. bittersweet baking chocolate
1/4 c. peanut butter
2 Tbsp. powdered sugar
1/2 tsp. cinnamon
1/4 c. sugar
3 large eggs
1 tsp. vanilla
Instructions:
Preheat oven to 425 degrees. Melt 1 Tbsp. butter and brush the inside of 6 ramekins to coat.
Combine 1 Tbsp. flour and 1 Tbsp. cocoa powder. Flour the insides of the ramekins, tapping to remove excess.
Place ramekins on a sturdy baking sheet and set aside. In a medium saucepan, combine 1 stick butter and baking chocolate and cook over low heat, stirring occasionally, until melted.
In a small bowl, combine peanut butter, powdered sugar, 1 Tbsp. softened butter, and 1/2 tsp. cinnamon. Mix well; set aside.
In a medium mixing bowl, beat granulated sugar, eggs, and vanilla at medium-high speed about 3 minutes. Gently fold in melted chocolate and 1/4 c. flour.
Fill each ramekin about 2/3 full with batter, then divide peanut butter mixture evenly among ramekins and spoon on top. Cover with remaining chocolate batter.
Bake at 425 degrees for 12-15 minutes, until the tops are cracked and edges feel firm, but the centers are still slightly jiggly.
Transfer to a wire rack and let cool 5 minutes. Use a knife to loosen cake from ramekins; place a small plate over each ramekin and invert.
Gently wiggle each ramekin to release the cake. Dust with powdered sugar and serve immediately.