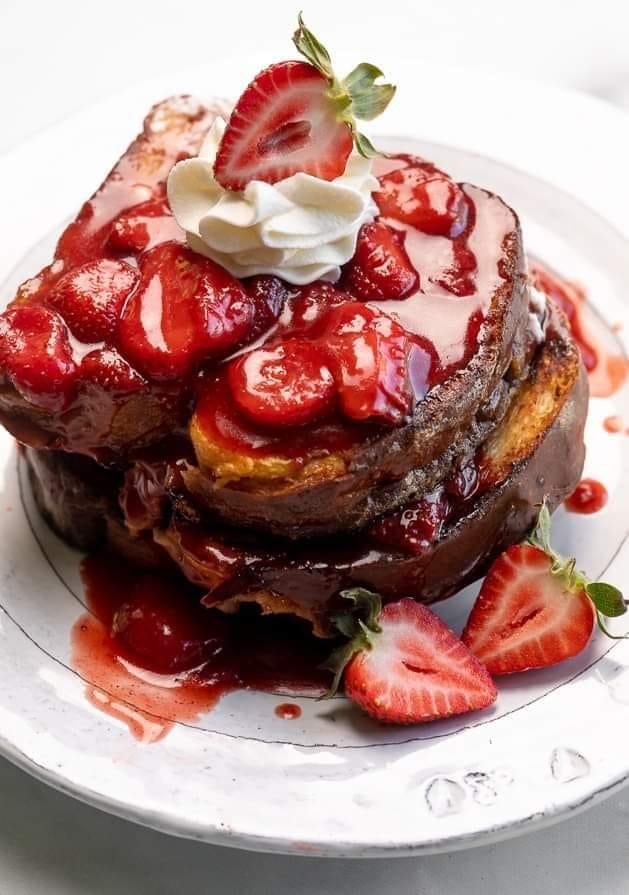 Ingredients:
For the Brioche French Toast:
●1/2 cup butter
●4 large eggs plus 4 large egg yolks
●1/2 teaspoon ground cinnamon
●1/4 teaspoon ground nutmeg
●3 tablespoons granulated sugar
●1 Tablespoon brown sugar
●1/2 cup milk
●1/2 cup heavy cream
●2 teaspoons vanilla extract
●1 and 1/2 Tablespoons Grand Marnier (optional)
●8 slices brioche
●For the Strawberry Sauce:
●3 Tablespoons unsalted butter
●1/4 cup sugar
●1/4 cup orange juice
●2 cups strawberries, sliced, fresh or frozen, divided
●1 Tablespoon water
●cornstarch 1 Tablespoon
●Grand Marnier (optional) 1 Tablespoon
●For the Whipped Cream:
●1 cup heavy cream, very cold
●2 Tablespoons confectioners's sugar
●1 teaspoon vanilla extract
Instructions:For the Brioche French Toast:
Melt a few Tablespoons of butter in a large skillet over medium-heat. In a large shallow bowl or pie plate, whisk the eggs and egg yolks until well combined. Add in the cinnamon, nutmeg, and sugars, and whisk until well combined. Finally, whisk in the milk, heavy cream, vanilla, and grand marnier.
Dip each slice of brioche into the egg mixture, making sure both sides are well coated.
Place brioche slices into skillet and cook until the undersides are golden brown, about 3 minutes.
Flip, and continue cooking on the other side until equally golden brown, about another 2 to 3 minutes.
Continue with all french toast, adding more butter to the pan as needed. Serve warm, with strawberry sauce and whipped cream!
For the Strawberry Sauce:
In a small saucepan, melt the butter. Continue cooking until it smells slightly nutty and is a deep golden brown.
Stir in the sugar, orange juice, and half of the strawberries. Cook over a medium heat for about 10 minutes, or until the strawberries have softened and the juice is slightly thickened.
In a small bowl combine the water and cornstarch, whisk until smooth. Then add it into the strawberry sauce.
Bring back to a boil and cook, stirring constantly, for about 2 minutes, or until thickened.
Add the rest of the strawberries and cook for 5 more minutes, stirring frequently.
Remove from heat and stir in the Grand Marnier, if using. Spoon over French toast.
For the Whipped Cream:
In the bowl of a stand mixer fitted with the whisk attachment, or in a large bowl using a handheld electric mixer, combine the heavy cream, confectioners' sugar, and vanilla extract.
Whip until stiff peaks form. Keep in the fridge until ready to use. Best used within 30 minutes!
Assembly:
Place French toast slices on a large serving platter, or divide among individual plates.
Top with a generous portion of strawberry sauce, then top with a dollop of whipped cream!
Serve at once!