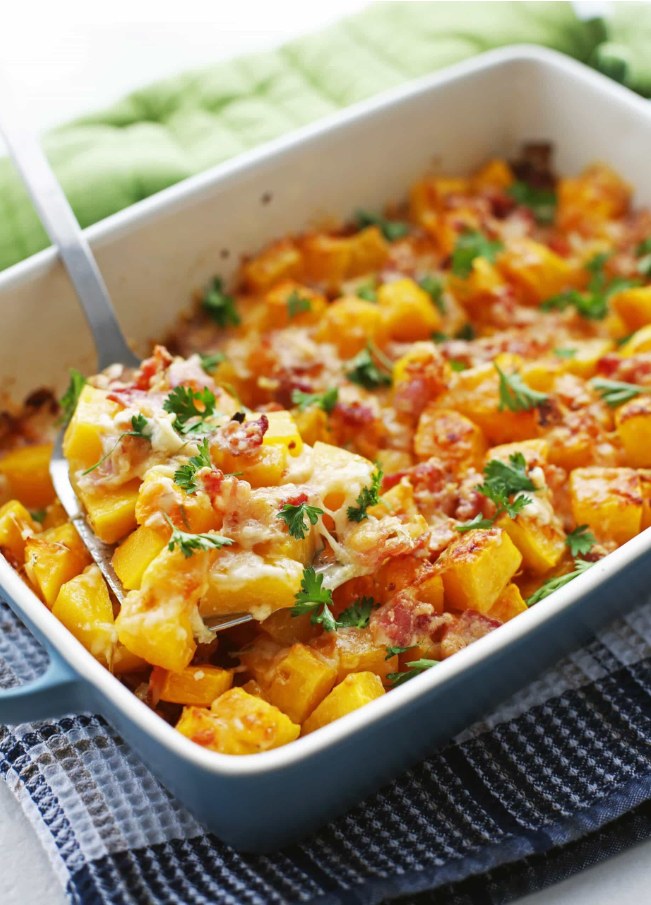 2 lbs. butternut squash, peeled and chopped into
½ inch chunks
4 raw bacon strips, chopped (I used pork)
3 garlic cloves, minced
1 tbsp olive oil
1 tsp dried rosemary Salt and pepper, to taste
½ cup (2 oz) parmesan cheese (Parmigiano-Reggiano), freshly grated
½ cup (1.5 oz) sharp cheddar cheese, shredde
¼ cup parsley, chopped
Preheat oven to 425°F, in a large bowl, combine squash, walnuts, garlic, olive oil, rosemary, salt, and pepper. Place in a 9×13 casserole dish and cover evenly with chopped bacon. Bake for 30-35 minutes, until butternut squash is tender (fork passes through, but not completely mushy). Sprinkle Parmesan cheese and cheddar cheese evenly over the top of the squash and bacon. Bake for an additional 10 minutes, until the cheese is completely melted, the butternut squash is tender, and the bacon is crispy and cooked through. Garnish with parsley on top. It is best served immediately.