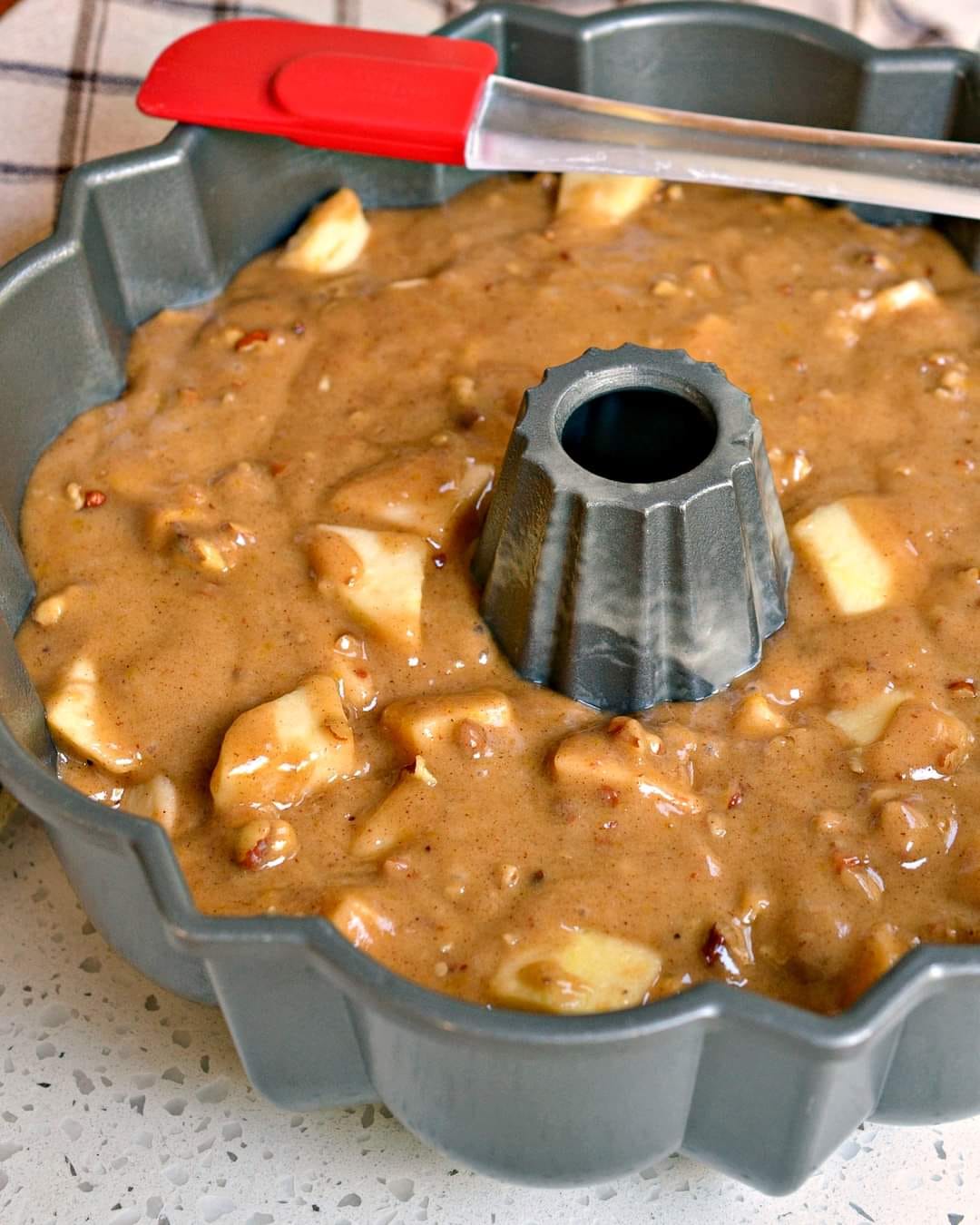 INGREDIENTS:
A scrumptiously moist Apple Cake with chunks of fresh apples and pecans in every slice all topped with an easy four-ingredient caramel drizzle.
APPLE CAKE:
3 cups all purpose flour
1 ½ teaspoons baking soda
1 teaspoon salt
1 tablespoon cinnamon
½ teaspoon ground cloves
½ teaspoon nutmeg
1 ½ cups vegetable oil
2 cups brown sugar
3 large eggs room temperature
1 ½ teaspoons vanilla extract
4 large Honeycrisp apples peeled, cored and chunked
1 cup chopped pecans
CARAMEL DRIZZLE:
1/2 cup brown sugar
2 tablespoons butter
1/2 teaspoon vanilla
1/4 cup heavy cream
INSTRUCTIONS:
Preheat oven to 350 degrees. Butter and flour a 10 inch bundt pan. In a medium bowl whisk together the flour, baking soda, salt, cinnamon, ground cloves and nutmeg.
In a separate large bowl whisk together the vegetable oil, brown sugar, eggs and vanilla extract.
Add the dry mixture to the wet mixture in 3 intervals stirring just until combined. Add the apples and pecans stirring just until mixed. Spoon the cake batter into the prepared cake pan.
Bake for 55-65 minutes or until a toothpick inserted in the center comes out clean. Let the cake cool in the pan for 15-20 minutes before inverting.
In a small saucepan over medium add the butter, brown sugar, and cream. Bring to a boil while stirring to dissolve the sugar. Remove from the heat and stir in the vanilla. Drizzle over the warm cake.