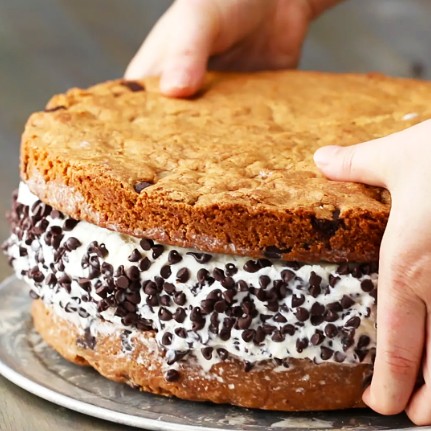 2 cups brown sugar (440 g)

2 cups white sugar (400 g)

2 cups butter (455 g), melted

1 teaspoon vanilla extract

2 teaspoons baking powder

4 cups semi-sweet chocolate chips (700 g)

5 cups vanilla ice cream (550 g), slightly softened
Preparation:
Preheat oven to 375°F (190°C).

In a large bowl, whisk together the brown sugar, white sugar, and melted butter.

Add in the eggs and vanilla, and whisk until combined.

Add in the flour, baking powder, and salt, and mix together until just combined. Add in the chocolate chips and mix again.

Spay two round pans with nonstick cooking spray and separate the cookie dough into each pan. Pat down the dough with a spatula until the surface is even, and bake for 35 minutes or until golden brown.

While the cookies are baking, place plastic wrap in a springform pan. Pour softened vanilla ice cream into the springform pan and spread evenly. Freeze until solid, about 1 hour.

Once the cookies have baked and cooled, turn them over onto a tray.

Place the ice cream disk on top of one half and cover with the other half.

With your hand press the mini chocolate chips to the outside of the cookie. Freeze again until solid.