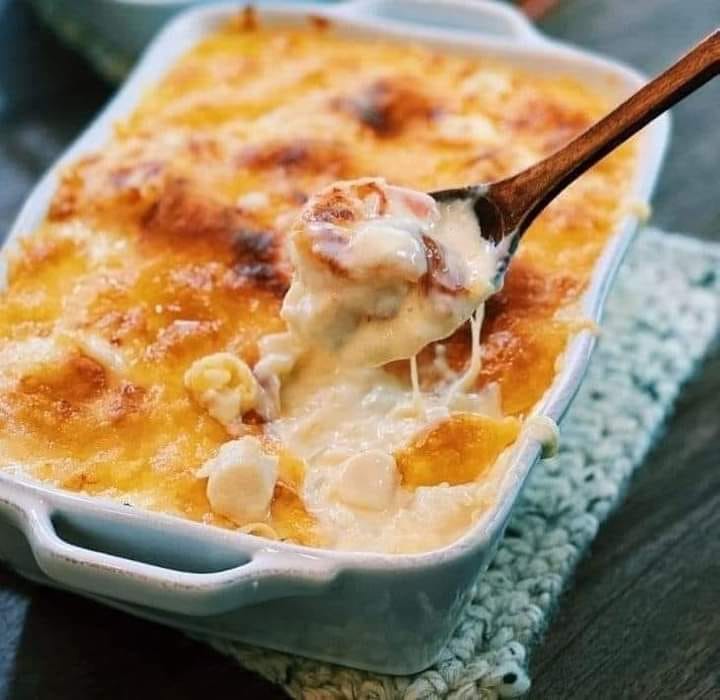 INGREDIENTS:
• ½ a diced Onion
• 1.5 cup of Scallops
• 1.5 cup of peeled Shrimps
• 3 tbsp of Butter
• 2.5 tbsp of Flour
• 2 cups of Cream or Milk
• 1 tbsp of Dashi Powder
• 1 tsp of White Pepper
• 3 cups of Cooked Rice
• 2 Eggs
• ½ cup of Cheese
INSTRUCTIONS:
Turn the heat to medium-high, and in a pan, add 3 tbsp of Butter. Once the butter is melted, add in onion and saute for 2-3 minutes or until translucent. Add in 2.5 tbsp of flour and mix until smooth.
Slowly pour in cream or milk and let it simmer together until it becomes a thicker consistency (around 2-3 minutes).
Season with dashi powder and white pepper. Next, add in shrimp and scallops and let it simmer for another 2-3 minutes.
Add rice, crack two eggs, and a dash of chicken Powder (optional). Mix until every grain of rice is coated in the egg.
Pour on the seafood sauce and top with cheese. Bake at 400F for 10 minutes.