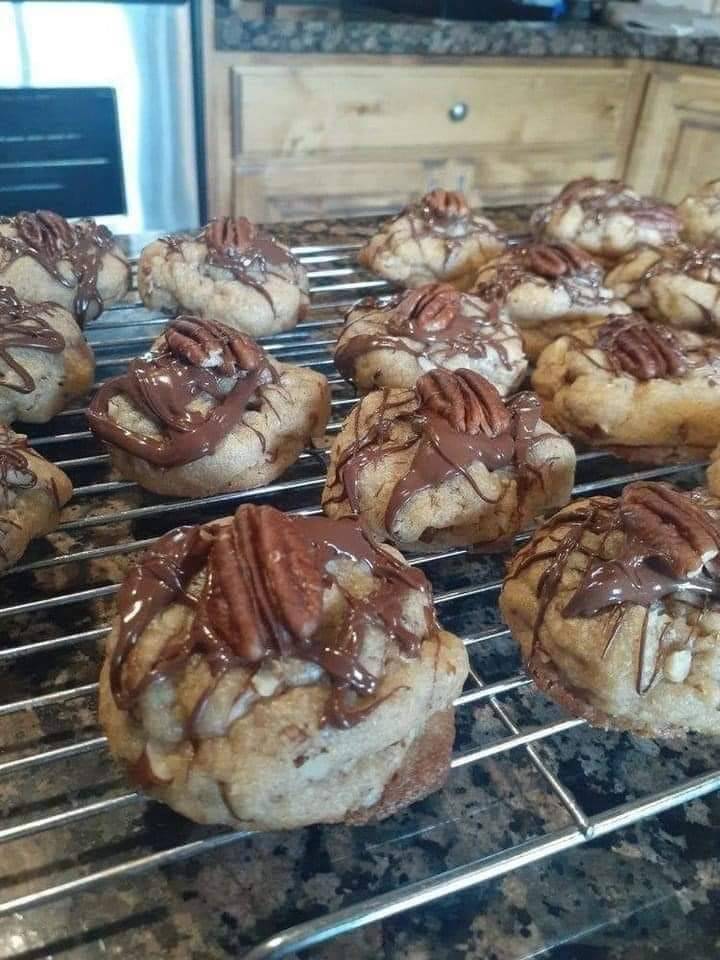 Ingredients:Butter Pecan Cookies
 For the Buttered Pecans:
 1 and 1/4 cup pecan halves, finely chopped
3 tablespoons unsalted butter
 For the Butter Pecan Cookies:
 2 and 1/2 cups all-purpose flour
1 tablespoons cornstarch
3/4 teaspoon salt
1/2 teaspoon ground cinnamon
1 teaspoon baking soda
2 sticks (8 ounces) unsalted butter, melted until browned
1 cup dark brown sugar, packed
1/2 cup granulated sugar
1 Tablespoon vanilla extract
2 large eggs plus 1 egg yolk, at room temperature
16 pecan halves, for decoration, optional
Melt butter in a large skillet over medium heat. Add in chopped pecans and cook, stirring occasionally, for 4 to 5 minutes, or until lightly toasted. Set aside until needed.
For the Butter Pecan Cookies:
In a large bowl combine flour, cornstarch, salt, cinnamon, and baking soda; whisk well to combine then set aside until needed.
In a small saucepan, over medium heat, melt the butter. Continue to cook the butter. swirling the pan occasionally. Keep a close eye here. The top of the butter should become foamy. And you should hear tiny popping noises. The butter will develop into a rich amber color, with tiny brown bits at the bottom. And it will have a slightly nutty aroma. Once the butter reaches this stage, remove from heat immediately and pour into a large mixing bowl.
Add both sugars into the mixing bowl and whisk well to combine.
Add in vanilla. Beat in eggs and egg yolk, one at a time, beating until eggs are just combined.
Using a rubber spatula, fold in the flour, stirring until just combined. Fold in the buttered pecans.
Cover bowl and refrigerate for 4 hours.
Preheat the oven to 375 degrees (F). Line two large baking sheets with parchment paper.
Using a large cookie scoop, divide the dough into 3-tablespoon sized balls and place onto prepared baking sheets, leaving about 3 inches between