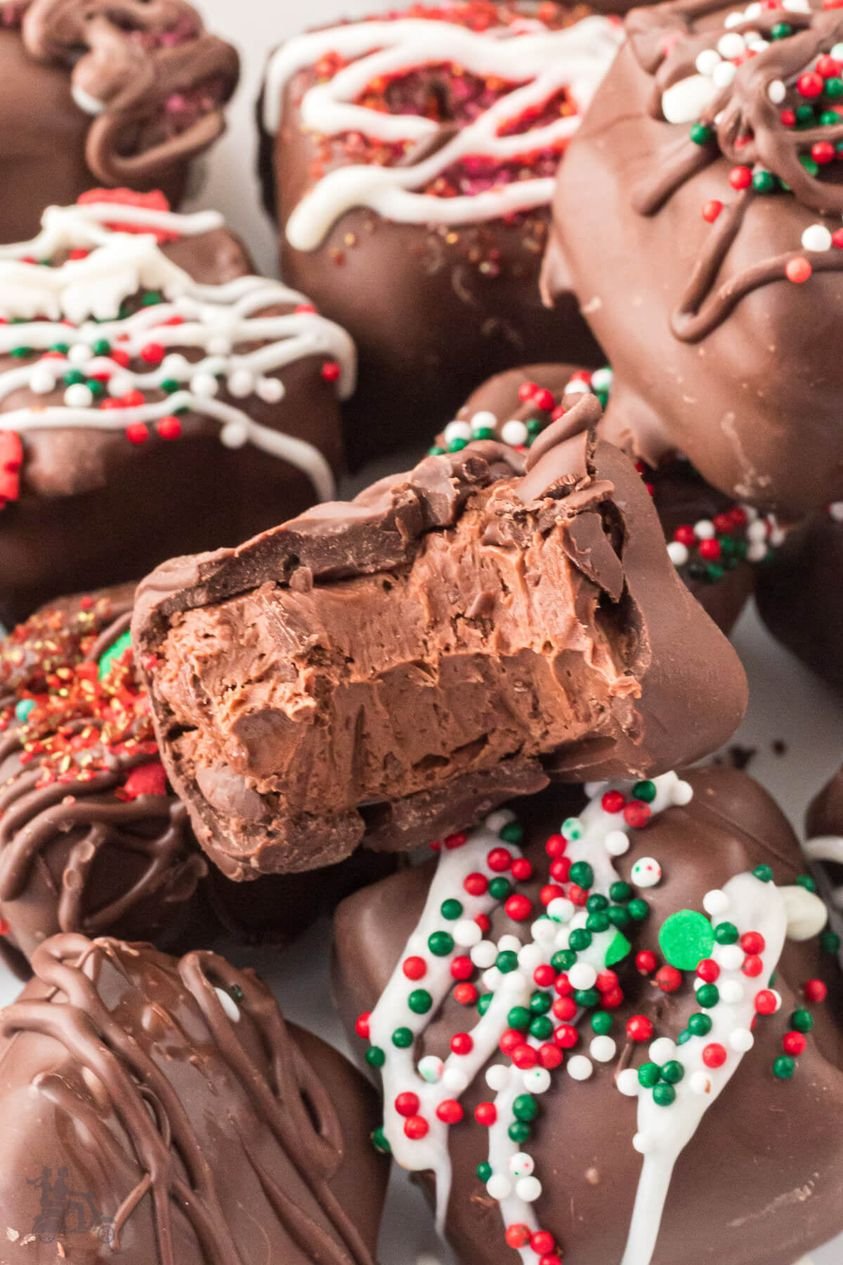 Ingredients:CHOCOLATE TRUFFLE BITES
22 ounces Milk Chocolate morsels 2 packages (11 oz. each)
8 ounces Cool Whip 1 canister, thawed.
24 ounces Ghirardelli dark chocolate these are the melting wafers
Instructions:
1: In a medium-size glass bowl that's microwave safe, melt milk chocolate chips for one minute on high power. Stir and microwave again for another 30 seconds. Stir until smooth. If the chocolate is not completely melted, heat for another 15 seconds)
2: Allow to cool to room temperature, about 15 – 20 minutes.
3: Line an 8-inch square baking dish with parchment paper. Set aside.
4: In a large glass bowl, gently fold together the cooled melted milk chocolate with the room temperature Cool Whip.As you combine the two you may see that the chocolate hardens into tiny bits. That's okay, keep folding until the of the chocolate and Cool Whip has been combined.
5: Pour the chocolate mixture into the baking dish. Put the dish in the freezer and freeze for 30 minutes.
6: Remove from the freezer and cut into 36 square bites. Place the candy on a parchment paper lined baking sheet and return to the freezer for at least 30 minutes.
7: Place Ghirardelli Dark Chocolate Melting Wafers in a microwave-safe container and microwave at half power or defrost setting for 30 seconds. Stir thoroughly (the wafers keep their original shape until stirred). If not completely melted, continue to microwave in 15 second intervals and stir until smooth.
8: Remove candy from freezer and dip into melted dark chocolate. Place each truffle bite on parchment paper and allow to set.
9: Store the chocolate candy truffles in the freezer until ready to serve. They are best served cold.
10: he chocolate truffle bites can be store up to a 30 days!