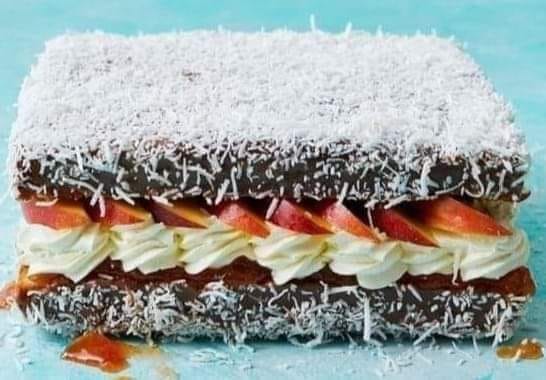 INGREDIENTS
 190g unsalted butter, chopped, at room temperature
 215g (1 cup) caster sugar
 2 tsp vanilla extract
 3 eggs, at room temperature
 350g (2 1/3 cups) self-raising flour, sifted
 250ml (1 cup) milk
195g (3 cups) shredded coconut
 375ml (1 1/2 cups) thickened cream, whipped
 200ml ctn double cream
 2 yellow nectarines, cut into thin wedges
milk choc coating
 300g milk chocolate
160ml (2/3 cup) thickened cream
2 tbsp milk
 2 tbsp coconut oil
 nectarine jam
 4 small (about 400g) yellow nectarines, coarsely chopped
 2 tbsp fresh lemon juice
 225g (1 cup) white sugar
INSTRUCTION:
1
Preheat oven to 170C/150C fan forced. Grease a 20cm square cake pan and line with baking paper.
2
Use electric beaters to beat the butter, sugar and vanilla in a bowl until pale and creamy. Add the eggs, 1 at a time, beating after each addition, until just combined. Add the flour and milk and beat until well combined. Pour mixture into the pan and smooth the surface. Bake for 50 minutes or until a skewer inserted in the centre comes out clean. Set aside in the pan for 10 minutes to cool slightly before transferring to a rack to cool completely.
3
Meanwhile, to make the nectarine jam, place the nectarine and lemon juice in a microwave-safe bowl. Place the sugar in a separate heatproof microwave-safe bowl. Microwave the sugar, uncovered, for 3 minutes or until hot. Stir the warm sugar into the nectarine mixture to combine. Microwave the nectarine mixture, uncovered, stirring every 5 minutes, for 20 minutes or until the jam reaches setting point. Set aside for 3 minutes or until the bubbles subside.
4
To make the choc coating, place chocolate, cream, milk and coconut oil in a microwave-safe bowl. Microwave, stirring every minute, for 3-5 minutes or until mixture is smooth. Set aside for 5 minutes to cool slightly and thicken.
5
Place a wire rack over a baking tray. Cut the cake in half horizontally. Place, cut sides down, on the wire rack. Pour the choc coating over the top and sides of the cake, allowing excess to drip off. Press shredded coconut on the top and sides to coat. Stand coated cakes for 5 minutes before transferring to the fridge for 30 minutes or until set.
6
Use a balloon whisk to whisk both creams in a bowl until firm peaks form. Spoon the cream into a piping bag fitted with a fluted nozzle. Place 1 cake on a serving plate, cut side up. Spread cake with cooled jam. Pipe cream on top and decorate with nectarine slices. Top with the remaining cake and serve