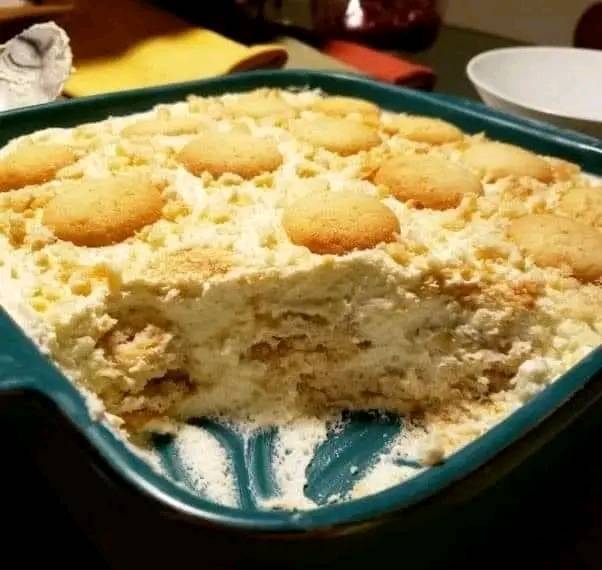 𝙄𝙣𝙜𝙧𝙚𝙙𝙞𝙚𝙣𝙩𝙨:
• 1 12 oz can evaporated milk
• 1 cup granulated sugar
• 1/2 cup all-purpose flour
• 1/8 tsp salt
• 6 large egg yolks reserve egg whites
• 2 1/3 cup half & half
• 2 Tbsp butter
• 1 Tbsp pure vanilla extract
• 1 11 oz box vanilla wafers
• 4 medium bananas sliced
𝗠𝗲𝗿𝗶𝗻𝗴𝘂𝗲:
• 6 reserved egg whites
• 1 tsp pure vanilla extract
• 1/2 tsp cream of tarter
• 6 Tbsp granulated sugar
𝗜𝗻𝘀𝘁𝗿𝘂𝗰𝘁𝗶𝗼𝗻𝘀:
1. In a medium-size mixing bowl, whisk together the evaporated milk, granulated sugar, flour and salt until dissolved.
2. On the stove top in a heavy bottomed saucepan over medium-high, warm the evaporated milk mixture.
3. In the same mixing bowl, whisk the egg yolks with the half & half. Whisk into the warmed evaporated milk mixture.
4. Cook stirring constantly for 10-15 minutes over medium heat until the flour has cooked and the custard has thickened. Once thickened remove from the heat and whisk in 2 Tbsp of butter and 1 Tbsp of pure vanilla. Set aside
5. Layer the bottom of a 7 x 11-inch oven safe dish with vanilla wafers. Top with banana slices. Cover with ½ of the custard. Repeat ending with custard.
6. Whip the 6 reserved egg whites with the vanilla, and cream of tarter. Sweeten with granulated sugar.
7. Whip for 3-5 minutes or until stiff peaks form. Spread the meringue on top of the banana pudding.
8. Set the oven to broil to toast the top until golden.
9. Garnish the edge with vanilla wafers, if desired.
10. Store chilled.