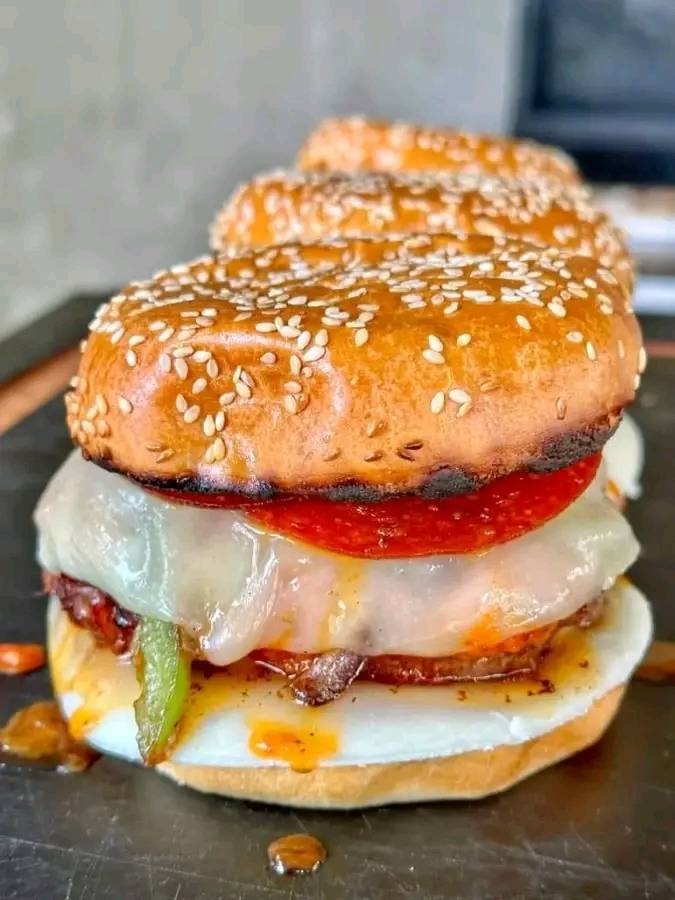 INGREDIENTS:
1 ½ lbs Ground chuck (80/20)
1 Green bell pepper chopped
1 Red onion chopped
1 pack Brioche buns
12 slices Provolone cheese
12 slices Big deli pepperoni
salt, pepper, garlic powder for the seasoning
1 can Store bought pizza sauce
2 tbsp Garlic paste
½ cup Mayo
INSTRUCTIONS:
Start off by making the burger patties and then place them in the fridge for 35-40 minutes.
Make the garlic mayo sauce and place it to the side.
Prepare the green peppers and red onions during this time and then add a cast iron over high heat and then cook them down for 8-10 minutes with butter and salt. Remove and place them to the side and keep them warm.
Season the burger patties with salt, pepper and garlic powder and grill them over direct heat for 6 minutes per side.
Place a cast iron skillet over the heat source and add the pepperoni slices to cook for 60-90 seconds per side.
After the first flip, grill for 2 minutes and add pizza sauce, provolone cheese and the crispy pepperoni slices. Shut the lid and grill for 4 more minutes. Remove and place on a wire rack.
Toast the buns and then add the garlic mayo spread on it, add green peppers and red onions, grilled burger with all of the toppings.
Enjoy with family and friends!