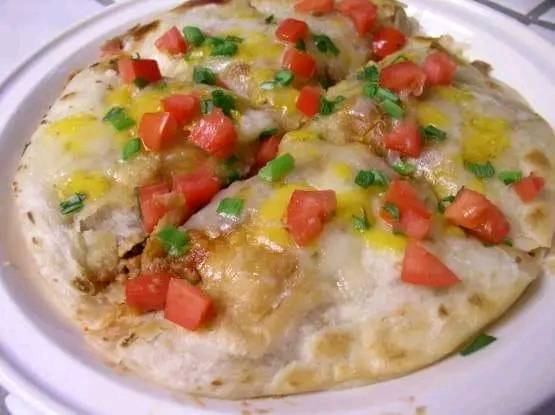 INGREDIENTS:
1 lb ground beef
1 (1 1/4 ounce) package taco seasoning
2 tablespoons water
8 small flour tortillas
1 (16 ounce) can refried beans, warmed
2⁄3 cup mild picante sauce or 2⁄3 cup salsa
1 cup shredded cheddar cheese or 1 cup monterey jack cheese, blend
1⁄4 cup chopped tomato
1⁄4 cup chopped green onion
DIRECTIONS:
-Using your hands, mix together beef, taco seasoning, and water.
-Brown the beef mixture in a skillet over medium-high heat for 5-6 minutes, using a wooden spoon or spatula to break up the meat as it cooks; set aside.
-In 375 degree oil, fry tortillas for 30-45 seconds per side, keeping as flat as possible and popping any bubbles that may form; drain on brown paper bags.
-Spread beans, then meat, then picante sauce/salsa over 4 of the tortillas; set aside.
-Spread cheese, then tomatoes, then onions over remaining tortillas; stack one of these tortillas on each of the others.
-Place pizzas under a hot broiler just until cheese has melted.